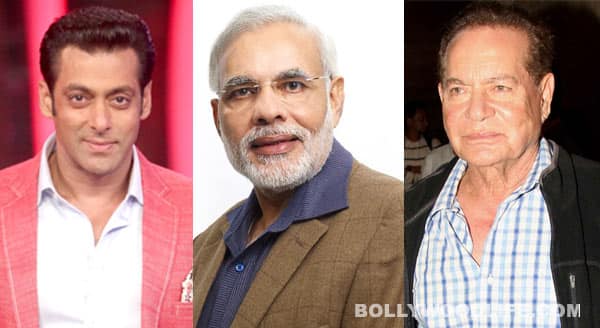 Modi seems to have found another support from another Khan in B-town
Not a long time ago on the eve of Makar Sankranti, Salman Khan raised many eyebrows when he made a visit to Gujarat and bonded with Narendra Modi during the promotions of his film, Jai Ho. During that visit, the Dabangg Khan met the Chief Minister of the state and BJP's Prime Ministerial candidate Modi shared lunch and even participated in kite flying session organised by CM. The actor had then defended Modi and looks like following Sallu is his daddy dearest Salim Khan.
Salman, in an interview with a leading news channel had defended Mr Modi over 2002 Gujarat riots, he said, "Why would Modi say sorry if he is not responsible for it (riots). And if he is responsible for it then why the judiciary gave him a clean chit, why nothing happened?"
And now after Sallu miyaan, Mr Modi seems to have found another supporter from none other than  Sr Khan. Like beta, even papa Salim has defended Modi over the riots by saying, "Nobody blames the chief minister of Maharashtra for the riots which took place in 1992. I think nobody might even knows his name."
That's not it Bollywood's veteran writer in his introductory note for Madhu Kishwar's book Modi, Muslims and Media, reads as follows – "One wonders why we were misled into believing that Modi's agenda was to convert Gujarat into a laboratory for devising ways to crush Muslims when the evidence put together by Kishwar clearly shows that, from the very start of his tenure, Modi prioritized an inclusive development agenda, a prime example of which was his plan for the reconstruction of Kutch after the devastating earthquake."
However just like his star son, when asked if he will campaign for Modi in the upcoming elections the writer said, "I am not a political person. I won't campaign for anyone. Whatever I have done or written is all on humanitarian grounds. I have no political agenda or affiliations."
Do you think the father-son duo have a point, BollywoodLifers?