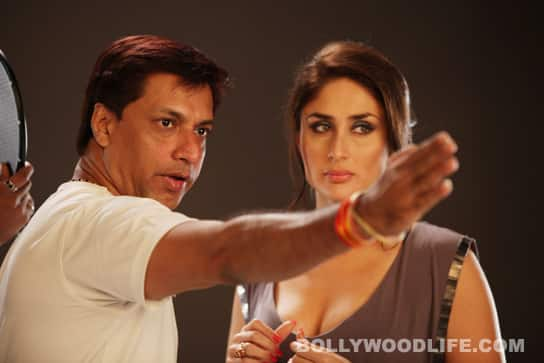 The internet is abuzz with photographs of the Heroine actor sporting a cute little baby bump
Ever since Vidya Balan emerged as the new 'Khan' of Bollywood, thanks to the huge success of her film, The Dirty Picture, all her peers have been trying to figure out how to match up her feat. The 'Ooh la la' babe just bagged her first National Award for her 'dirty' act. If you follow our site, you would know that one of the biggest reasons for Kareena Kapoor doing Madhur Bhandarkar's Heroine, is for the National Award.
If the photographs doing the rounds on the internet are to be believed, Bebo will be seen playing a pregnant woman in one portion of Heroine. We heard that in the movie, Bebo has to re-consider her career option as a heroine, as she gets pregnant, thanks to her better half played by Arjun Rampal. While we do not know how true these stories are, wethinks Heroine will be the Chammak challo babe's re-entry into the league of actors who are known to pack a punch with their performances which is not limited to just looking pretty and dancing around trees.
But for her stellar performances in Jab We Met, Dev and Chameli, Kareena still isn't known for her acting chops. Her size-zero fixation and her quest to look good in all her films (RA.One, Bodyguard and Ek Main Aur Ekk Tu) has been her calling card till date. If true, then this move will push Bebo's career in the right direction. Do you agree?
ALSO READ: Is Kareena Kapoor playing a terrorist in 'Agent Vinod'?
Kareena Kapoor says: I Am Crazy of Love!