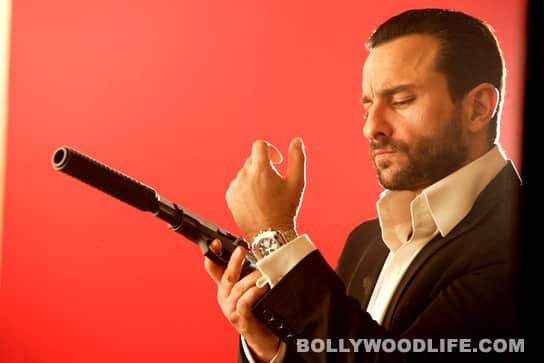 Saif Ali Khan's Agent Vinod had barely recovered the money pumped into the ambitious project and the makers are already running into trouble for lifting songs from well known films without prior permission
Agent Vinod is this year's reasonably expensive film with the cost amounting to a whopping Rs 60 crore. By the end of March, the action-based spy thriller had recovered nearly Rs 40 crores but is still way below the mark for it to be considered a success. And now grappling with fresh controversies, the producers of the Saif Ali Khan-Kareena Kapoor starrer may have to cough up extra money. Apparently, several old songs were used without due permission from the producers or the labels who owned the original rights to the soundtracks. Three songs in particular were used in the film, Aasmaan Pe Hai Khuda from Ramesh Saigal's Phir Subah Hogi (1958), Meri Jaan Maine Kaha from Ramesh Behl's The Train (1970) and Rakamma from Mani Ratnam's Thalapathi (1991).
Clarifying all the speculations, in a recent interview director Sriram Raghavan claimed that he had already conveyed to all the respective labels as well as the producers of the original songs before using them in Agent Vinod. But matters got worse when the due acknowledgement was not given to the respective labels in the credits of Agent Vinod. We think or rather hope that the Nawab of Patudi steps up and sorts out the issue before things get out of hand, especially if he plans to make a sequel to the spy thriller. Don't you think so?