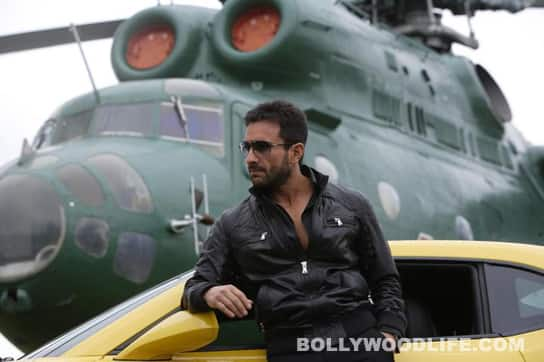 The ambitious spy-thriller may not be raking in the big moolah it was expected to earn, but has managed to become Saif's biggest opening till date, bringing in over Rs 30 crores in the first weekend!
Director Sriram Raghavan's Agent Vinod may not have received great reviews and the film may not be able to achieve the Rs 100 crore mark as its producer and actor Saif Ali Khan was expecting, but things are still looking up for the film. Agent Vinod managed to pull in Rs 10 crore on its first day, making it Saif's biggest opening till date. Before the release of the film, this position was occupied by the actor's last home production, Love Aaj Kal.
The celebrations might be short lived, considering that the figures saw a dip on the second day. On Saturday the film made around Rs 8.50 crore, but made up for it on Sunday, when it saw a 10 percent rise with the collections for the third day coming to around Rs 9.50 crore. The total collections for the opening weekend thus stand at approximately Rs 27.50 crore. And the cash registers have not yet stopped ringing, with total collections so far being set at over Rs30 crore, as per latest trade reports.
The film was made a budget of Rs 50 crore and Rs 12 crore was spent on the marketing. It has already recovered about half its cost from the music and satellite rights that were sold for a total of Rs 30 crore. It needs to make approximately Rs 30 crore more for it to break even – which may have already happened. And with no other big release due this week, it could do even better. But sadly, Agent Vinod will not be able to enter the blockbuster club. As it looks now, the movie may just about manage to make enough to avoid losses.
ALSO READ: