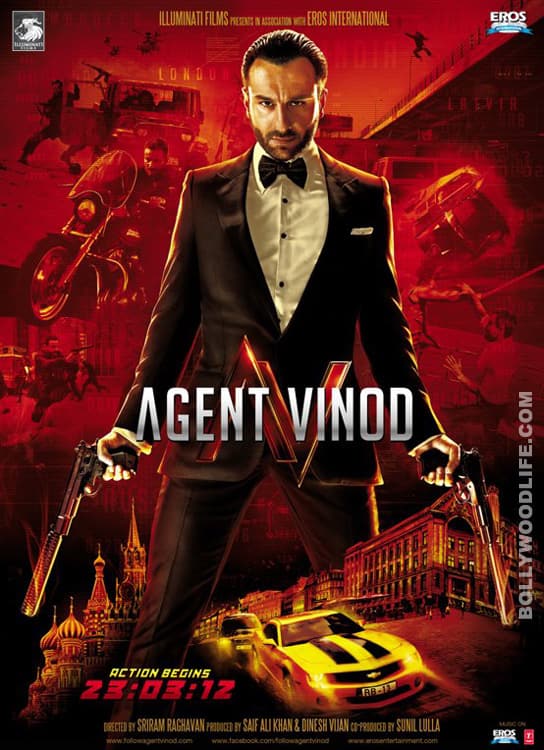 Agent Vinod could have been the coolest spy thriller to come out of India since it does not have too much competition in that department. But it misses the mark by a good margin. Director Sriram Raghavan loses the plot by trying too hard and packing in as much as he possibly could in one big budget flick
Before you start watching Agent Vinod you have some expectations from it since you know at least three important things: Sriram Raghavan has directed two very underrated and understated but intelligent thrillers – Ek Haseena Thi and Johnny Gaddar , that he has waited five years for Agent Vinod to materialize and it's Saif Ali Khan's home production and his most ambitious project.
To start with, the spy thriller has a perfect beginning. The story kicks off in Afghanistan where Agent Vinod (Saif Ali Khan) is being held hostage. The smart and daring character of Vinod is quickly established with his witty repartee and quirky manner of dealing with his enemy, followed by a well-shot action sequence in the desert and the slickly done title credits. Heavily inspired by A-Team!
The story then moves on to the murder of an ex-KGB officer. The news spreads all over the world and international business tycoons start discussing the possibility of a suitcase bomb which can cause massive destruction. Meanwhile, Vinod's partner Rajan (Ravi Kissen) is keeping an eye on an obnoxious drug and prostitution dealer Abu Nazer (Ram Kapoor) and listens in to a discussion between Abu and Colonel (Adil Hussain) about the number 242 before he is exposed. Enter RAW's Agent Vinod.
Vinod sets off to Russia for leads and then to Morocco where he meets Kazaan (Prem Chopra) and his doctor Ruby (Kareena Kapoor). Ruby's behaviour keeps you puzzled about which side she is on. Is she Iram, the girl behind the London blasts or is she a Pakistani agent trying to expose an international conspiracy? The suspense develops well up to a point but slowly becomes predictable and at times taxing. The story keeps moving to too many places – from Morocco, Latvia and Moscow to Pakistan, India and London. The climax is not as nail biting as it was meant to be and the end is long drawn as it goes back to London where the whole terror plot is revealed. The explanation behind the entire conspiracy just doesn't satisfy you after you've sat through some choppy screenplay, especially in the second half.
The action is well-done and some of the sequences are choreographed beautifully. The editing is slick in parts and sloppy at times. There are many loopholes within the script. Why didn't Vinod just kill Colonel when he had the chance? Why did Kareena not mention anything about a password when she had known it before? There are quite a few of them actually.
Kareena plays the understated character of Ruby/Iram decently. Saif Ali Khan is cool, suave, stylish and quirky, just as Agent Vinod should have been. But he gets caught and conned just too often for a heroic agent. His character is inconsistent and doesn't come out as strongly as it should have.
As always, Raghavan is stylish with his presentation and storytelling – using Charlie Chaplin visuals, the sound of a bullet followed by the sound of a water fountain and use of a variety of musical genres for the background score. He merges black humour and action with ease. One of the most interesting scenes is the Saif-Kareena action sequence unfolding in the hotel room lobby as the romantic song Rabta plays in the background, reminding you of Quentin Tarantino movies like True Romance and Kill Bill. It is a classic scene and will be talked about for a long time. But there are many things he just doesn't manage to get right. His use of old Hindi film songs comes across as a little forced. Where Raghavan really fails though is that he makes it all look like a lot of hard work. Almost all the film making devices he uses feel like they were meant for a certain kind of effect. You can see that he has tried too hard to pack in as much as he could because he is directing a big budget action thriller, which wasn't the case when he was making smaller budget suspense thrillers like Johnny Gaddar. In Agent Vinod's case, the writing is not up to the mark. It is more than obviously motivated by James Bond movies and has drawn a lot of inspiration from Sean Connery's Bond flick From Russia with Love.
Another thing that works against the film is that there is too much happening and there are too many characters involved, and Agent Vinod gets lost quite a few times in the process. You lose track of the events too and all the travelling across the world leaves you exhausted. If you want to watch a Bollywood version of James Bond, go for it. And if you manage to forgive the long drawn conclusion, the listless climax, the inconsistent screenplay and some loopholes, you can possibly enjoy the hardcore action, blazing guns, the slick presentation and a suave spy! Doubt if Saif's dream of entering the Rs 100 crore club will come true this time around as there is too much going against the film.
Dear Raghavan, you are at your best when you are focusing only on the story and not worrying about locations, budgets, stars and large scale productions. Will the real Sriram please stand up?
ALSO READ: