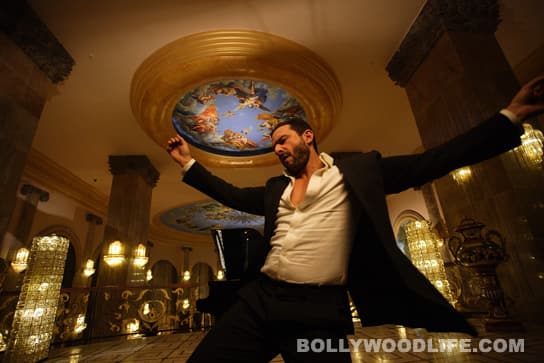 Pyaar ki pungi can sound weirder – if you translate it into English!
Saif Ali Khan's song Pyaar ki pungi in Agent Vinod is hilarious not only because of his weird dance steps, but also because of its lyrics. It has faced its share of controversies, especially with regards to its source of inspiration, but you cannot deny that the lyrics are laugh-out-loud worthy. The words, by Amitabh Bhattacharya, are cheeky, fun and totally over the top! The spy thriller is set in several countries other than India; and we wondered how viewers watching it there will make sense of this nonsensical song. We reimagined the song in English and found the hilarity doesn't get lost much in translation. Take a look and tell us what you think!
O meri jaan, o meri jaan
Mere ko majnu bana kar
Kahaan chal di, kahaan chal di
Pyaar ki pungi baja kar
Pyaar ki pungi baja kar
Oh my life, oh my life,
Me into Romeo you made and
Where are you going, where are you going
Love's pipe after playing
Love's pipe after playing
Bangle ke peeche hai taala
Ghusu kahaan se main saala
Laila ki khidki khuli hai
Khidki ke neeche hai naala
Khidki pe koi khada hai
Laila ka taaka bhida hai
Mazzey udaati hai..
Meri mohabbat ki booch maar ke
Bungalow's behind there is lock
Enter from where shall I, darn it
Laila's window is open
Window's below is a gutter
Window at someone is standing
Laila's hooked up
Pleasure she is flying
My love's lid after hitting
ALSO READ: Rani Mukerji birthday special: Stealing Stealing Quietly Quietly
Vidya Balan-Emraan Hashmi in 'Yeh Ganda Chitra'
Salman Khan, Shahrukh Khan and Aamir Khan: It's all about the name
Mogambo khush hua? Mogambo became happy?
Arshad Warsi: tongue in cheek!
Shahrukh Khan: In which film I die, film becomes superhit!
Is 'Kahaani' an apt movie title for a thriller?
BADE ACCHE LAGTE HAIN: In the distance between arms, two loves are meeting

Kareena Kapoor says: I Am Crazy of Love!
Salman Khan in Dabangg: I will make many holes in your body
Rajinikanth said: The time for me to come has come, the time for you to go has come