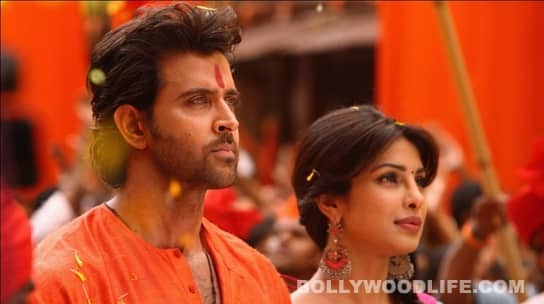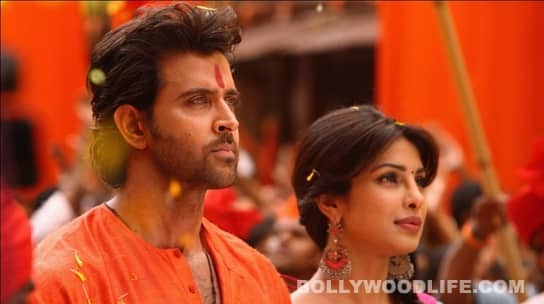 Bollywood celebs who watched Agneepath at a special screening are raving about the performance of Hrithik Roshan, Priyanka Chopra and Sanjay Dutt
Karan Johar's Agneepath remake has received a positive review from Bollywood celebrities, who attended a special screening of the much-awaited movie in Mumbai. The Monday night screening saw attendance from celebrities like Arbaaz Khan and Arjun Rampal and they are all impressed with the remake of the 1990 film. The Hrithik Roshan, Sanjay Dutt and Priyanka Chopra-starrer, directed by debutant Karan Malhotra, is set for release this Thursday.
Here's what B-town had to say about it:
Manaayata Dutt: 'I loved Sanju in the film. He has done a fabulous work.His look and acting… I really liked a lot. In real life he is a very good, pure-hearted person, but in this movie, he has played such a contradictory character. He has played this role with so much confidence.'
Preity Zinta: '@priyankachopra @iHrithik @kjohar25 All the best 4 the Film guys ! All of u did a great job in…. Agneepath … Agneepath….Agneepath !!'
Sophie Choudry: '@iHrithik is simply outstanding! @priyankachopra & Rishiji r brilliant. As 4 Sanju, words can't describe the evil he is! #Agneepath SUPERB!'
Arjun Rampal: 'It was mindblowing. It's a superb film. Go and watch Agneepath. You guys are going to be blown away.' He also tweeted: 'Just saw Agneepath superbly entertaining, @iHrithik is fab as usual, Sanju is bloody scary,Rishi Kapoor is unreal,priyanka fab,dir is a star.'
Zayed Khan: 'All the performances are fabulous. Finally, superb kind of movies are back. It's amazing. Hrithik, Sanjay, Priyanka, everybody was outstanding.'
Arbaaz Khan: 'I think the director has done a fantastic job and it's a very good remake of the earlier Agneepath. Sanjay's performance is fantastic, Hrithik is looking very good and he has acted very well as well. I think the star of the film is the director.'
Dino Morea: 'I think the remake that they have made is amazing. Hrithik and Sanjay have done a fabulous job. It was fantastic.' He also tweeted:'Just saw Agneepath, brilliant. Full on entertainer. Performances awesome. WoW. Fab job karan malhotra, for a 1st time director, top class.'
Uday Chopra: 'Saw Agneepath..whatta movie! brilliantly directed @iHrithik is plain awesome and @priyankachopra makes Kali "Shine" all the best @kjohar25'
Farah Khan Ali: 'An unbiased opinion. Agneepath moves you like u cannot even imagine. A total "MUST" watch. @iHrithik @kjohar25 @priyankachopra @duttsanjay'.