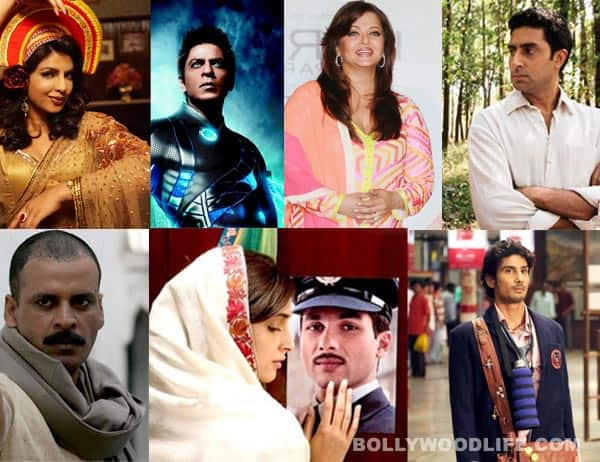 Today, June 21, is the summer solstice. To celebrate, we take a look at Bollywood projects that made us feel that other astronomically normal days were the longest we ever lived through in the life of bollywoodlife.com
June 21 is the longest day of the year, if you consider planetary positions. But there have been several times in the past year when we fervently believed that we were living the longest day ever. Why? 'Cause we were watching onscreen and offscreen Bollywood sagas that seemed never-ending. B-towners suddenly seemed to take inspiration from Ekta Kapoor's saas-bahu soaps and dragged an insubstantial concept into a monstrously long-winded event. Here are a few instances that make us groan even today:
Saat Khoon Maaf: An endless repetition of weddings and murders that took its toll on us and had us anxiously waiting for the moment when we could finally leave the theatre.
Mausam: The silly reasons that parted the lovers every time they met had us groaning and hoping they would get their act together soon, so we could be spared from watching any more of the film.
My Friend Pinto: It was one of the shorter mainstream films of last year and quite cute too, but the story moved at a mind-numbingly slow pace. It made us wish that we had chosen to watch Delhi Belly instead.
Gangs of Wasseypur: Thank God the movie will be released in two parts. The prospect of watching a five-and-a-half-hour-long film about the rural mafia is daunting even for insomniacs, we are sure.
Aishwarya Rai Bachchan's baby saga: It's definitely up there on the list of long-winded off-screen B-town stories. After a lot of speculation over her pregnancy, its confirmation, her odd behavior, her delivery date and her unborn child's sex, the baby finally arrived! Just when we thought the matter would end soon with a baby name revealed, the Bachchans dragged the drama out for another five months. And they are stretching it again by not releasing pictures of the infant. Frankly, if they don't do it soon, we wouldn't care less any more.
Shahrukh Khan's RA.One promotions: Turn to your right, and there's Shahrukh on a chat show. Turn to your left, and there he is on a game show. Walk out and there he is selling merchandise. Shahrukh was relentless in promoting his film and went on and on – and on – with it for a full eightmonths…or was it longer? The movie was no better. And when G.One was revived at the end, we couldn't help but moan at the prospect of a sequel.