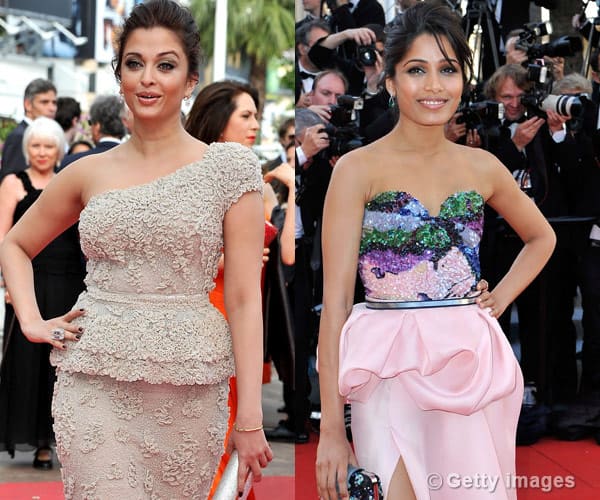 The two Asian actors who have a Hollywood presence are on the Forty Women That Women Find Beautiful line-up of NYMag.com
The men don't get it. But there are some women who women find absolutely beautiful. And envy is replaced by awe in this case. Asian beauties Aishwarya Rai Bachchan and Freida Pinto are among 40 such global lady achievers who are admired by the female of the species.
Aishwarya is ranked no.21 and Freida stands at 26 in this list created by NYMag. Ash was described in the poll results as: 'She may be the "world's most beautiful woman," but what we really love is that she never feels fragile onscreen.' And Freida as: 'If we looked like that, we'd be smiling all the time, too.' Like, wow.
Another Indian who finds a place in there is Jhumpa Lahiri (no.30), the Pulitzer Prize-winning author of Interpreter of Maladies and The Namesake (made in to a film by Mira Nair). Ranked just before British singer Adele (no.31), Jhumpa is described as 'A woman this talented and gorgeous will sometimes inspire hate. But this woman is so talented that you can't work up a good jealousy grudge.'
The rest are biggies like actor-director Sofia Coppola, designer Stella McCartney (no.5), Hollywood sweetheart Meryl Streep (no.12), actor Elizabeth Montgomery (no.14), model Iman (no.15), actors Liv Tyler (no.17), Katharine Hepburn (no.18), Cate Blanchett (no.20), Mia Farrow (no.23), Diane Keaton (no.36), and Michelle Yeoh (no.39), among others. Interestingly, the last one on the list is US First Lady Michelle Obama.
Do you agree with this list? Go on, share your fantasy with us!
ALSO READ: Freida Pinto gets to romance Christian Bale