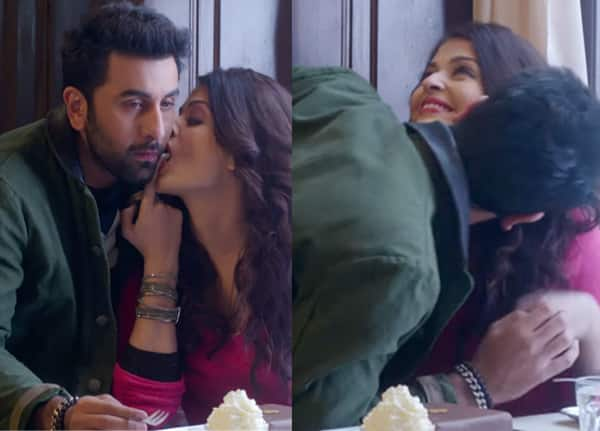 Obviously people cannot stop crushing on Ranbir Kapoor and Aishwarya Rai Bachchan from Ae Dil Hai Mushkil right now and why wouldn't they? After all, they look so damn hot together. It's like the moment you start crushing on Aishwarya, Ranbir walks into the frame to steal a kiss and make you crush on him even harder. In fact, there's this particular scene in Bulleya where Ranbir and Ash share this insanely sexy lovemaking scene with Ash actually licking cream from Ranbir's cheek and the latter taking it further by licking it down her neck. While the songs have already served enough for us to be be desperate about the film. We can't wait to see what more is in store for us with the trailer of the song…
Also read: 7 times Aishwarya Rai Bachchan glammed up the screen before Ae Dil Hai Mushkil- view pics!
Well, we really wouldn't be surprised if Ranbir and Ash alone make Ae Dil Hai Mushkil one helluva film to watch. I mean, don't you think they look like a million bucks together? Add to that, the plot of the film too is so unusual that Ranbir and Ash's romance is bound to stand out despite having hotties like Fawad Khan and Anushka Sharma in the film. In the sense, the film talks about one sided love where Ranbir falls for Ash but the latter is very clear about not falling in love and just playing around with his feelings. Like you know what we mean?
It's kinda refreshing to see Ash take up such a bold role for we don't remember when was the last time we saw Mrs Bachchan looking so ridiculously sexy onscreen? Add to that, she's also being given such a dreamy makeover that you would be really blind if you don't go weak in the knees the minute you see Ash onscreen! Here check out these 31 HOT AF stills from Bulleya and tell me if you don't skip a beat. You sure will! Here you go…