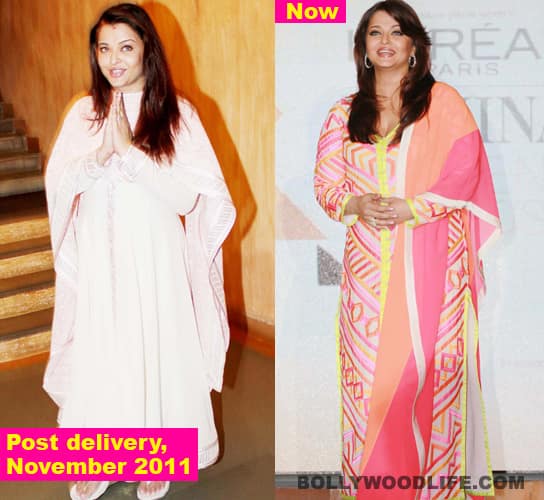 Instead of losing some of her flab after the baby's delivery, the Bachchan bahu seems to have put on at least five to six kilos
If you look at the pictures of Aishwarya Rai Bachchan's recent public appearance with her mother Vrinda Rai at the L'Oreal Paris Femina Women Awards, you will notice that the superstar leading lady looks way bigger than the last time we saw her, which was at Riteish Deshmukh-Genelia D'Souza's wedding. In fact, she looked a lot slimmer even at the press conference conducted by the Bachchans at their residence, Jalsa, immediately after the baby's arrival – take a look for yourself. But in recent photographs it seems as if Ash is heavier by five to six kilos at least and looks bloated. Don't you think so?
You might think that we are being harsh to the lady, but we are not. We aren't out of our minds to expect Ash would go back to her original svelte self or anywhere close to her Dhoom 2 sexy figure so soon. We are just a little concerned seeing her in this state, 'coz most expectant mothers lose at least some, if not all of the pregnancy weight after the delivery.
We hope this just one of the unusual body tendencies or motherhood bliss showing up and nothing to really worry about. In such a case, all the Bachchan bahu needs is loads of free time and a good trainer to make her sweat it out in the gym. Maybe she can check with Kajol on that, 'coz that lady has wonderfully knocked of all the pregnancy fat gained after two babies and is back in sexier shape than before!