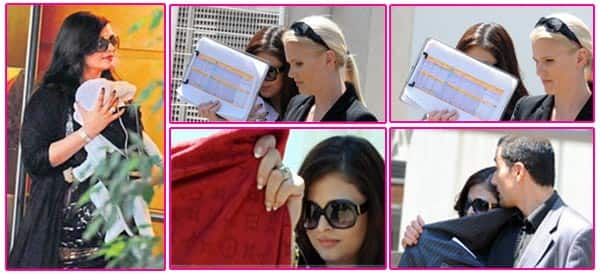 It's funny how Aishwarya Rai Bachchan prevents the paparazzi from photographing her daughter all the time. And just when we thought she's only being protective, Ash proved us wrong by showcasing her obsessive side while returning from Cannes recently
After making the most of the 65th Cannes Film Festival, Ash was spotted at Nice international airport with baby Aaradhya all nestled up to her. As the staff tried really hard to deter the media from catching sight of her baby by using all kinds of props, from a shawl to a folder, Ash seemed quite pleased with her entourage's proactive tactics. And as if that wasn't enough, one of her subordinates was seen constantly tugging at his blazer to cover the baby. Looks like this is Ash's way to train her daughter on how to behave like a diva and act all hoity-toity. Although we have nothing against Ash trying to maintain her privacy, our only gripe is the way she's going about it. Instead of being a sport and handling it all graciously, she tends to fall flat on her face by dealing with the attention in an awkward manner.
Considering Ash seems quite fixated on the idea of using props to conceal her li'l bundle of joy, we are quite curious to see what she wields the next time around. An umbrella or grandmom Jaya Bachchan's pallu seem like good options, no?