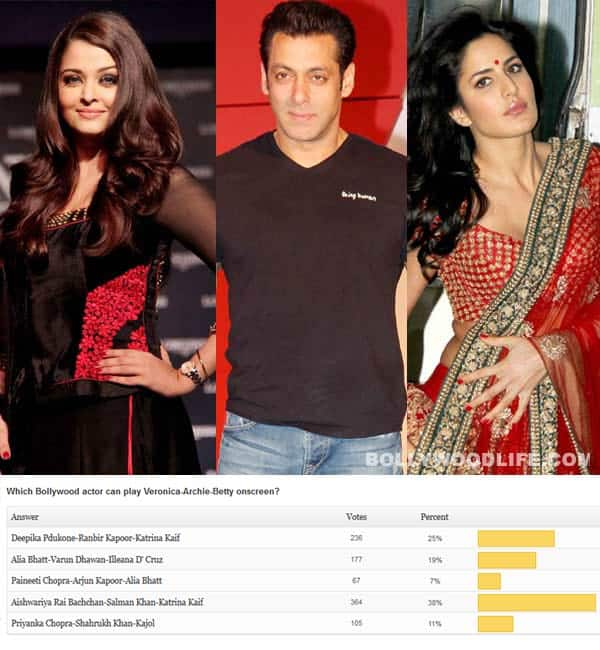 We asked our loyal readers who they think can be the perfect trio from B-town to portray the desi version of the famous comic characters. Here are our poll results!
Archie, the most recognisable face from the world of comic-dom is no more! And just when we were blinking our eyelids furiously to hold back those collective tears, we imagined why not our B-townies make an effort to resurrect the iconic character and his pals in a desi version. That got us thinking – what if Archie was a character in a Bollywood film? Who would play him? And what if the entire Riverdale cast was made up of Bollywood movie stars? Yes, we know you've seen Kuch Kuch Hota Hai, but we are not talking of an unofficial inspiration here. We were thinking along the lines of Archie comics, absolutely filmi-ishtyle. So we asked our dear BollywoodLifers who they prefer to see as apna hero Archie, the spunky Veronica and the chirpy Betty.
The response to the figment of our wild imagination was phenomenal with votes pouring in for various permutation and combinations. A majority of peeps, a whopping 38 per cent actually thought that Aishwarya Rai Bachchan, Salman Khan and Katrina Kaif can play Veronica, Archie and Betty to the best effect.
While the Bachchan bahu in all her generous body constitution is not our idea of Veronica, but Sallu miyaan with his idiosyncrasies and Kat with her attitude can certainly play the part of the freckled faced Archie and the stylish bimbette respectively. 25 per cent voters also voted for Deepika Padukone-Ranbir Kapoor and Kat as the possible Archie trio. Interestingly, here too Kat has been voted as the perfect desi avatar of Betty. Main Tera Hero couple Varun Dhawan and Nargis Fakhri along with 2 States star Alia Bhatt also caught our readers fancy as they bagged 19 per cent votes collectively. Now you can take a look at our report card and tell us if the final results are fair or not-so-exciting!