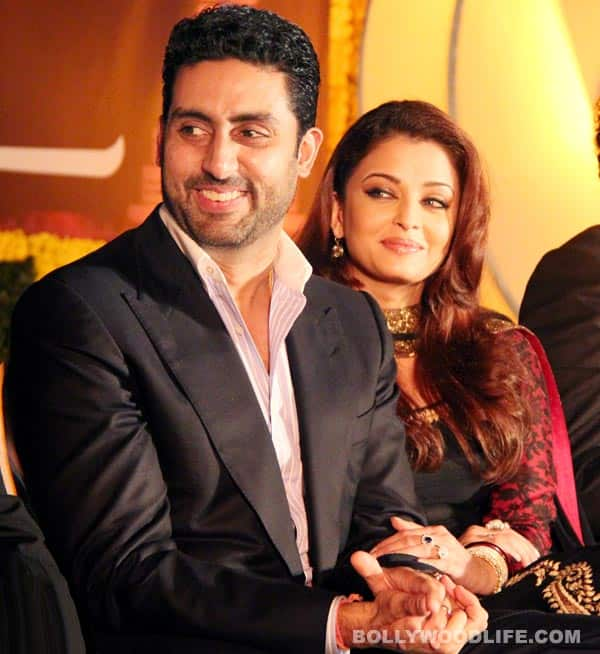 Ooops! Whatever made our feathered friend think of that? We dig in to find out
While we were busy admiring the latest ad of Kalyan Jewellers that featured a carefully crafted Aishwarya Rai Bachchan, a birdie chirped that the now-hopefully-in-shape Ash has decided to act only in movies that have hubby dearest Abhishek Bachchan as her onscreen partner.
Why? Is the Bachchan bahu too self-conscious ('coz of the added inches?) to let anyone else – other than darling husband, of course – to 'handle' her perfectly? Or is it that after Aaradhya Bachchan was born the couple lost out on many coochie-coo moments and have decided to make up for it by signing movies that star them together? Nopes, it's not us pointing out these reasons. We're just wondering aloud if the birdie who broke this news imagined all this to be the case. Possible?
To that, a stern representative of the younger Mrs Bachchan replied, "A certain section of the media has been wrongly reporting that Aishwarya Rai Bachchan would do films only with her husband in the future. This bit of news has in the past also been circulated during the time Aishwarya was getting married and at other times as well. We would like to state for the record and put an end to any such speculation that this information is incorrect and is a figment of someone's imagination. It's disheartening to see such tactics being employed by people threatened by her position. Aishwarya has been a complete professional and will at no point let personal equations affect the films she acts in." In short, Ash has no such conditions tagging along with her to the sets.
Hmmm, we thought so. Didn't we? Wink, wink.
But tell us, readers – Who should Aishwarya Rai Bachchan co-star with in her next movie?