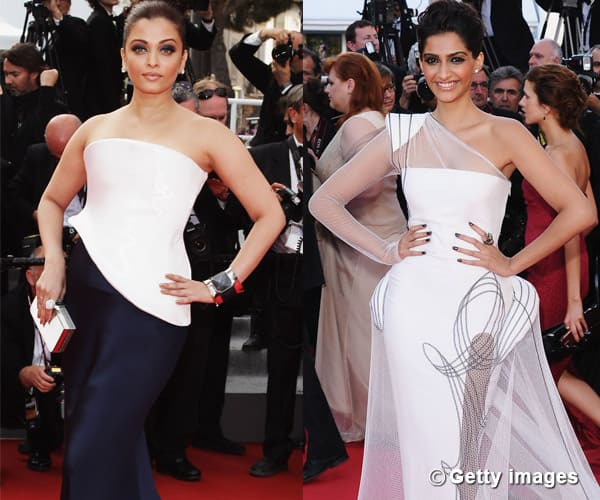 While the world debates the new mum's style statement for the event, we take a look at the others who will walk the walk alongside the former beauty queen
Not that long ago there was a bit of a hoo-ha when Sonam Kapoor, newly anointed brand ambassador for L'Oreal, announced that she would be doing her thing on the famed red carpet at the Cannes Film Festival. Rumour has it – though we never got any proof of it – that reigning monarch Aishwarya Rai Bachchan took grave objection to the younger woman's presence and stopped her march de triumph before it could take off. But time and tide and market value will stop for no woman, so Sonam did manage to make her mark – and how! – in a gorgeous Jean Paul Gaultier gown last year that had fashionistas buzzing with huge helpings of approval. Ash, on the other hand, rather stunned us and many others with her more than generous proportions, even though her face and eyes were as pretty as ever.
This year the anticipation has racked up more than a few notches. The former Miss World has been subjected to more than severe criticism for her figure…or lack of it…and everyone is waiting to see what she will wear to swan down that stretch of red carpet, with all the cameras focused mercilessly on her style statement, her dress code and her escort – will husband Abhishek Bachchan be there, or will it be en famille with Beti B aka perhaps Aaradhya in her mother's arms? Is the recent mum pregnant again, as buzz would have it? Will she flaunt a new baby bump rather than try to hide it, as she so painfully did the last time? We wait to find out.
But as we do, we have more to anticipate. Ash will have company and some competition as she does her duty for the brand she endorses with the other models who are part of the promotions. Sonam will, of course, do her electric walk to promote the cosmetic company's new range, though she has decided not to wear a sari – she did last year (Masaba, remember?), she says, and that was oh so last year! We heard a whisper that Kareena Kapoor will also be there, along with Heroine director Madhur Bhandarkar, though both have denied it over Twitter. And since Kareena insists she wears saris to anything ultra high profile, we wait to find out what comes our way, from her and reported new fashion designer buddy Sabyasachi Mukherjee.
Of course our old buddy Mallika Sherawat, who has been seen in everything from Anita Dongre (very sexy!) to Dolce and Gabbana (yuck!) to experimental new designers, plans to be there, reportedly dressed by international labels. And then there will be former model and exemplary wife Mehr Rampal, perhaps dressed in her favourite Tarun Tahiliani, alongside her Rohit Bal-clad husband Arjun Rampal, who will definitely be the 'beautiful people' contingent from India. Sexy Bipasha Basu, who we heard was going to be there as part of Singularity promotions, will now give it a miss, since her movie is far from ready, and we will miss the always-alluring fashion that she invariably flaunts. Unfortunately, Mrs Anurag Kashyap, Kalki Koechlin will not be there to show off her eclectic and very aesthetic style sensibilities, but we hope to see more of her another time.
So this year, Ash will have some serious competition on the red carpet. Of course, if she takes her daughter along, she will beat them all, hands down!