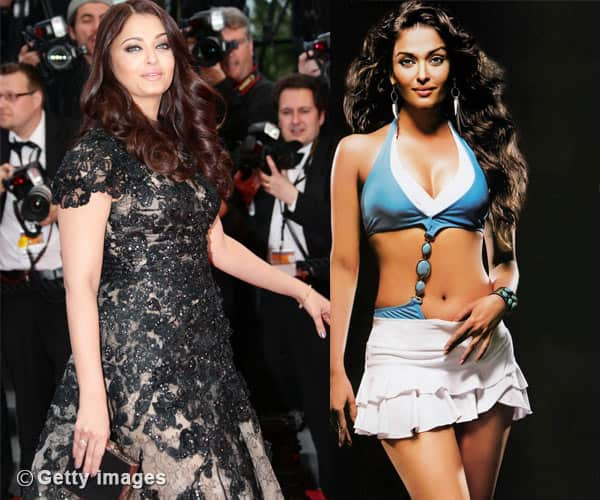 The beautiful Bachchan bahu is all set to shed the extra kilos and get back in shape for her upcoming film opposite hubby dearest!
We've all heard that Aishwarya Rai Bachchan will recreate her Dhoom:2 magic again in her comeback film, Happy Anniversary. Ever since the producer said, "Aishwarya is working hard for the film. She is working hard to lose weight. I can say she will be seen as 'Dhoom Girl' in the film," we've been wondering what else this fab mum will have to do to re-deliver her sassy self…
So, let's recall Ash in Dhoom:2! Whoa, wasn't she hot? Well, no doubt Aishwarya still looks beautiful, though she succumbed to the motherhood flab for too long. But, in order to look like her Dhoom:2 self again, the Bachchan bahu will not only have to lose her weight but also change the kinda clothes she prefers these days. In Dhoom:2, Aishwarya was seen sporting miniskirts, teamed with crop tops or bikini tops. Her slender waist, sexy legs, cellulite free arms and non-chubby cheeks in Dhoom:2 still make us drool! Aishwarya will have to give-up her long gowns and huge anarkalis to get back to her sexy image. In Dhoom:2, Ash was also seen looking super seductive as she shook a leg to Crazy kiya re. Though Aishwarya is very comfortable in her own skin even now, will it be the same on the big screen? Apart from the workout sessions, she'll need to practice her dance moves to perfect them and stylishly deliver them, no? Especially considering, we haven't seen her at it for quite a long time now! The glam divas these days are all for skin show… Will Ash give in to it easily?
While we eagerly wait to see Aishwarya Rai back in shape, we were wondering if she will have the same chemistry with Abhishek Bachchan as she did with Hrithik Roshan in Dhoom 2 (maybe with some steamy smooching)! Wink, wink!