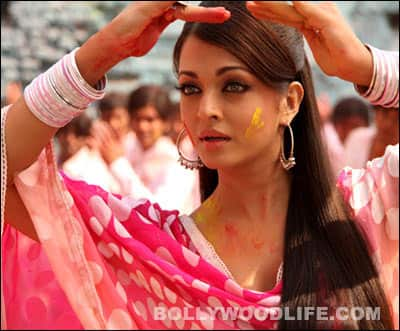 The elegant Bachchan bahu has been voted as the hottest and the sexiest beauty in an exclusive poll conducted by BollywoodLife
Aishwarya Rai Bachchan continues to rule our colourful fantasies, or at least that's what our poll seems to suggest. We asked our readers who in their opinion was the hottest Holi babe – the choices ranged from Rekha to Madhuri Dixit-Nene and from Hema Malini to Deepika Padukone.
The yesteryear glam diva Rekha might have acquired the cult status of being the ultimate Holi star, thanks to the iconic song, Rang barse bheege chunarwali from Silsila. But the most beautiful Indian woman on the planet, Ash has won many a heart and maximum number of coveted votes with her undeniable charm this time. Ash had appeared in Holi songs in Aditya Chopra's Mohabbatein and then she repeated the multi-coloured feat in the Akshay Kumar starrer Action Replayy. Fans seem to have been so mesmerised by the Miss World-turned-Bollywood sensation that they made the green eyed beauty the hottest Holi star ever.
Ash bagged 27.05 percent of the votes. The Dhak dhak star Madhuri Dixit-Nene too came close with 23 percent votes. Priyanka Chopra and Deepika Padukone netted 17.41 percent and 14.08 percent receptively. Clearly, no one could come close to the gorgeous Bachchan Bahu except our darling Mads. But in the end, Ash ruled the poll and won the contest hands down!  Tell us what in your opinion makes Mrs Bachchan the lava-hot star that she is!