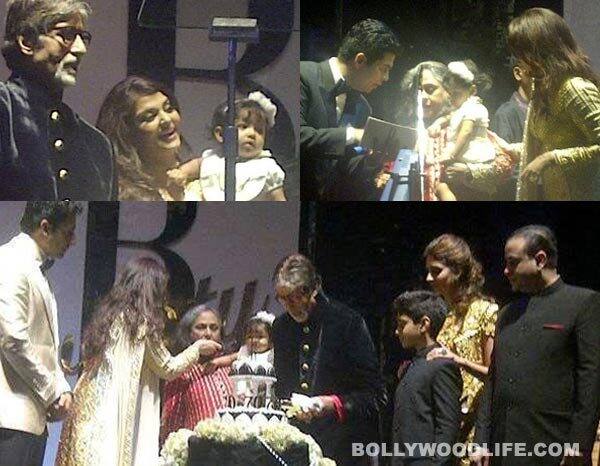 skip advertisement
As Amitabh Bachchan celebrated his 70th birthday last night, we cornered the Bachchan bahu for a quick chat. Ash was at her candid best and answered our curious questions with her famous wit and that dazzling smile
It was a treat to meet Aishwarya Rai Bachchan last night. The beautiful Bachchan bahu was present with her hubby Abhishek Bachchan, mother-in-law Jaya Bachchan and, of course, the birthday boy, papa-in-law Amitabh Bachchan, who created nation-wide hysteria for reaching that landmark number in his life. The art event brought together 70 leading artists from around the world to present a unique exhibition titled B Seventy, with one single theme: Amitabh Bachchan. The superstar was the focal point of each work and every artist expressed his or her thoughts on the Big B.
The legendary actor was the cynosure of all eyes, but his bahu Ash grabbed our attention with her stunning presence. She walked the red carpet with Abhishek, who was seen sporting a clean-shaven look. After watching the famous couple, we were curious to see if baby Aaradhya had tagged along with her mom and dad. But Ash informed us that the little angel was happy to be home, tired after making a brief appearance at her grandpa's grand birthday bash, which was held at Film City, Goregaon, Mumbai the night before.
The Bachchans have been hiding the cute baby from the prying eyes of the media, but finally all of us were thrilled to get a glimpse of her on the stage at Big B's birthday party. Aishwarya has an explanation: "No, we are not hiding her (Aaradhya) from the world. If you are talking about the picture that was taken at the airport some days ago, you are mistaken. She is a little baby now, a very delicate child. So when you see that she is being photographed, your protective nature takes over. You don't want a child to be disturbed by the flashlights. So your hands instinctively come closer to her face. I was simply trying to wrap my arm around her. We are not playing a game of hide-seek here," Ash quipped.
Big B told us proudly that Aaradhya was beaming with happiness to see her grandpa cutting his birthday cake. "But I can't interpret what she told me with her innocent babble and I am sure neither can you!" he joked.