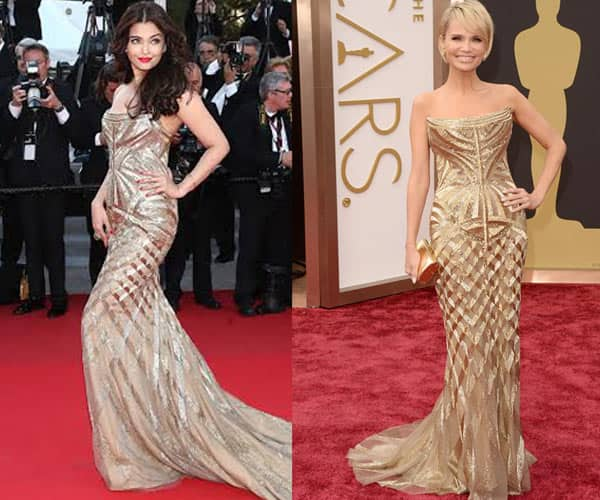 The former Miss World is back with a bang. Boy, as she posed on the red carpet in the lovely golden dress, we were lost for words. While Ash was seen in a new curvaceous shape, the gown, we have seen before
Everyone was waiting for Aishwarya Rai Bachchan to make her appearance at Cannes Film Festival 2014. While she missed the first appearance due to some strike issues, the former Miss World made her first appearance at Cannes yesterday. And were we impressed? Well, we were left speechless, as was her hubby, Abhishek Bachchan. Ash chose a Roberto Cavalli gold atelier gown. The gown hugged her curves in a flattering way. And her red pout with the blown out hair with soft curls made her look like a Goddess descended from the heavens. We swooned looking at this beauty on the red carpet in the newly attained avatar and finally when we regained consciousness, we realised that we'd seen this gown elsewhere. Where, you ask?
The same Roberto Cavalli gold gown was donned by Kristin Chenoweth at Oscars 2014, held earlier this year. The Hollywood actor had sported a pixie bob with the gown. We don't want to sound biased to our B-town beauty, but Aishwarya dazzled in the gold gown and totally outshone Kritin's appearance. And so what if it's a copy (intentional or unintentional)? Maybe the former Miss World loved the gown so much that she didn't care less about being compared to Kristin. And we're glad she opted for this lovely gown and we really can't stop singing praises for her now, coz she's worth it!
So BollywoodLifers, tell us who do you think wore the Roberto Cavalli gown better, Aishwarya Rai Bachchan or Kristin Chenoweth?