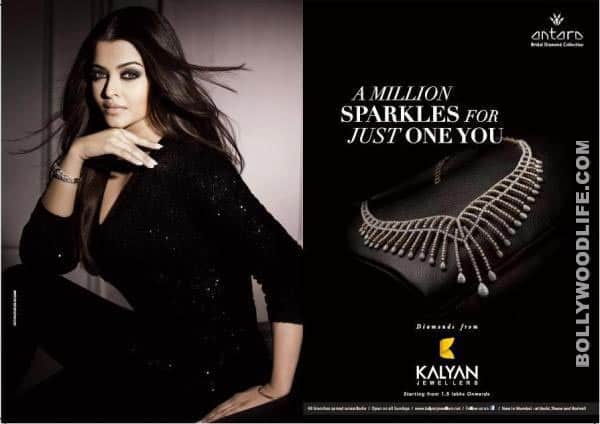 The Former Miss World, as always, looked like a million bucks in the new Kalyan Jewellers poster. The shiny black ensemble is making her look like such a diva, no?
Aishwarya Rai Bachchan was recently seen in a popular jewellery brand's new print ad. The brand ambassador of Kalyan Jewellers – Mrs Bachchan made sure she posed like an absolute star in the shot. The flecks of silver on her pure black dress looked visually delightful. If you notice, Ash is hardly flaunting those precious stones – and that's ironic, isn't it? But again that's the beauty; there's no overdose of bling, in fact just that one bangle Ash is seen wearing is enough to make her look all sophisticated. The kohl-rimmed eyes and the meandering hair are superb, and do we really need to mention anything about the way she's carrying herself. The other observation is that the picture doesn't look heavily Photoshopped like her previous ads. Looks like the graphic honchos have hardly resorted to any editing, apart from a li'l sharpening around the edges and a bit of chucking that extra cellulite around the jawline.
So yes, we give it to ARB this time for looking like such a dazzling diva!