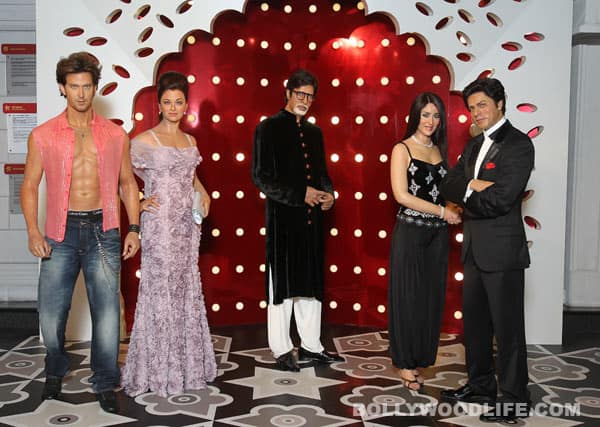 Wax statues of the Bollywood stars are on a 'world tour' of Madame Tussauds wax museums
Some Bollywood stars crave for a wax statue at Madame Tussauds London and never get one, while some are lucky enough to be present at various branches of Madame Tussauds' famous museum. Falling in the second category are Aishwarya Rai Bachchan, Shahrukh Khan, Hrithik Roshan and Kareena Kapoor, whose figures will travel to Hong Kong after being in the Blackpool museum for a while.
Madame Tussauds Hong Kong has unveiled the Bollywood Superstar Collection comprising the B-town A-listers. They will 'reside' in the World Premiere zone of the museum alongside the permanent statue of Amitabh Bachchan until July 19, 2012, after which the tour continues to Europe and the US.
Looks like the actors are a big draw at Tussauds, making them want to place the 'idols' at various locations across the world. Kelly Mak, General Manager, Madame Tussauds Hong Kong, said, "We are very excited to see some of the greatest Bollywood stars take the stage here in Hong Kong. As we observe an increasing number of visitors from India, I'm sure they would be pleased to see their idols up close even away from home."
We just hope Madhuri Dixit is not wondering why her statue, recently installed in London, didn't travel to Hong Kong with her peers. Is she not big enough a star any more?