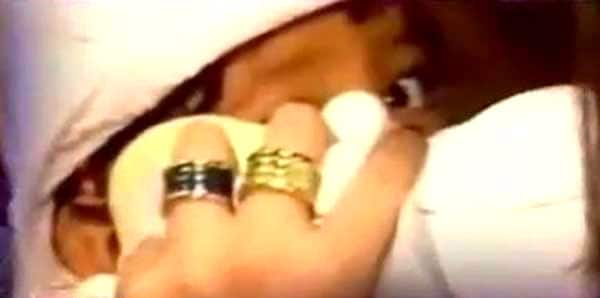 Okay, that's a misleading headline. It's just an eye, actually, but it is perhaps the first publicly available photograph of the infant we all knew as Beti B before she finally got her name
All Aishwarya Rai Bachchan's attempts at hiding her baby Aaradhya's face have unfortunately failed. A news channel has managed to get a glimpse of the toddler's eye. Yes, just one eye, and a part of a baby-soft forehead. But they are touting it as the first available-to-the-public photo of Aaradhya! Take a look at the image above and tell us if it isn't a crazy thing to do. We were surfing when this grab from the news channel's video caught our eye.
Frankly, we think it is a gross invasion of Aishwarya and Aaradhya's privacy. So what if she is just a baby? That doesn't give anybody the right to barge into Ash's personal space with a video cam, angle it over her shoulder and zoom in on Aaradhya's little face! Show some respect, people.
It's true that we can't wait to catch a glimpse of Aaradhya either, but if the Bachchans want to take their time releasing official pictures of the baby, then there's nothing we can do but wait. And it would be good manners to do just that. Violating someone's privacy to feed public frenzy should be a strict no-no. We sympathise with Aaradhya. Poor baby. What has she done to deserve this kind of incessant intrusion into her personal space? Can you imagine how scary it must be for her? And if this is the kind of media scrutiny she'll be subjected to in the coming years, it's going to be a painful life for her.
But having said that, we must admit that we cannot resist showing you the image we are talking about. After all, that is a really sweet little eye, round, large, curious, wondering what people are making such a fuss about. Now let's leave mum and baby alone, shall we?