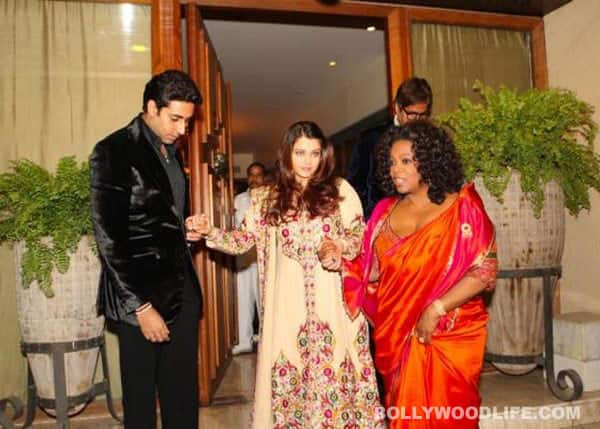 A BollywoodLife reader saw Oprah's The Next Chapter episode and pinged us
So Aaradhya Bachchan aka Beti B did not make an appearance on Oprah Winfrey's new show, The Next Chapter, after all. There was a huge buzz that Aishwarya Rai and Abhishek Bachchan's darling daughter will say her first hi to the world on the world's most celebrated talk show. But alas! It didn't happen.
A BollywoodLife reader happened to catch the show in the United States and immediately informed us (we had asked for some dope from our US readers). Said Erin at 1.23pm IST, "The show aired hours ago, Aishwarya and Abhishek were barely featured, no mention of the baby's name and no shot of the baby."
While we are sad that Aaradhya was not even mentioned, forget shown, what makes us sadder is Erin's observation that Aishwarya and Abhishek were "barely featured". As if to compensate, Oprah tweeted a picture of her India visit, with Abhishek and her helping Aishwarya step down, and Amitabh Bachchan in the background. Left us highly unsatisfied we must say…. About time Beti B's picture is shared with the world, at least. What do you think?
Meanwhile, we hear that a new girls' college in Daulatpur, Uttar Pradesh is going to be named after Aishwarya. The Aishwarya Rai Bachchan Girls' College, as it will be called, will be built by Amitabh Bachchan's foundation, Sewa Sansthan. The college was delayed for some time and is now being revived – maybe the birth of Aaradhya has made the Bachchan's speed up the process of doing their bit for the girl child. Now this is something the Bachchan family fans will be truly proud of, won't they?