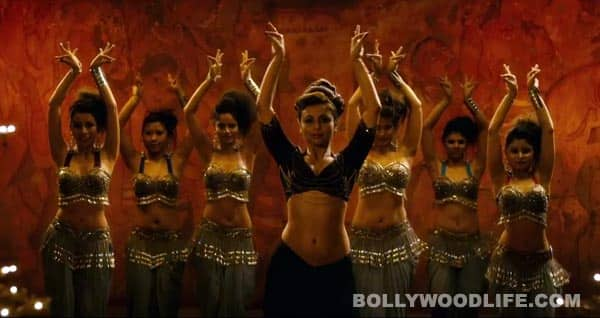 Music: Amit Trivedi
Lyrics: Amitabh Bhattacharya
Singers: Soumya Rao, Shalmali Kholgade, Sneha Khanwalkar, Amitabh Bhattacharya, Sunidhi Chauhan, Shreya Ghosal and Amit Trivedi
Rating: **1/2
Aiyyaa is centred around a Maharashtrian girl played by Rani Mukerji, who falls in love with a South Indian man – Prithviraj. So the soundtrack of the film draws heavily from Maharashtrian folk music and South Indian film songs.
Wakda, which means 'twisted' in Marathi, is a simple composition. Sung by Amit Trivedi, it juxtaposes southern instruments like the mridangam with the Marathi-style tutari. It starts becoming repetitive very soon and does not hold your attention for too long.
Aga bai starts with erotic sounds and drum beats, and Marathi lyrics that go Aga bai kay karoo. Shalmali Kholgade is familiar with the language and does justice to the song. There are break beats and techno samples, making it sound more edgy. The cool number fuses filmi tunes with electronic sounds.
A lovely blend of piano, shehnai and a whistle kickstart the track Mahek bhi. Then violins and the harmonica take over, and the instrumental music goes on for a long time before Shreya Ghosal starts singing. It's a beautiful composition with spare and simple poetic lyrics like Cheente rangon ki padte hi, kore khabon me jadte hi, mehfil ho gayi wo sabhi jo kabhi sooni sooni si galyian thi, wo sabhi kaila ban gayi. Great listen.
What to do does a twist on Lijjat papad and makes it izaat papad – a creative idea to make a whole song out of that one advertising concept. Trivedi even uses the manic laughter from the papad commercial (remember?) as a musical device. Sneha Khanvilkar and Amitabh Bhattacharya do a great job, altering their voices to suit the song. It's a straightforwardly double-meaning composition and is bound to make you laugh.
The lyrics of Dreamum wakeupum are cheesy and funny – Top to baseum kamasuturam, thighs thunderum, downum underum, sizeum matterum thinkum wonderum, jumpingum pumping, throbbing thumping ­! It's a hilarious take on South Indian song and dance, and use of the kissing sound 'muaaah' is a vulgar touch that works for this one!
Sava dollar is disguised as a lavani with the use of the traditional dhol beats and the use of Marathi terms like 'ji ji', which are common in Mahrashtrian folk music. The lyrics are very ordinary – Heroine mujhe bana de na sava dollar chadhaoongi badle mein. Sunidhi's singing is a bit loud and over-the-top. Maybe it'll be funnier when seen in the context of the film, but as an individual song it doesn't really work.
The soundtrack of Aiyyaa is entertaining, but in most parts it's cheesy and OTT. The compositions feel like too much deliberate effort has been made to make the listener laugh. Amit Trivedi and Amitabh Bhattacharya try too hard to make it all sound naughty and cool which affects the quality of the songs. But if you are in a cheesy mood, this one is worth a listen!