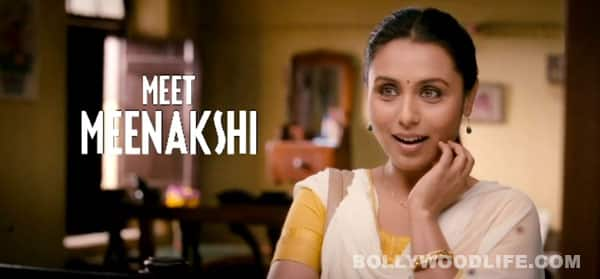 Rani Mukerji is back and how! The petite babe is all fireworks with her loud gags and oodles of hamming. But in the end Rani seems to deliver on what is expected, or even needed, for a slapstick comedy of this nature!
First we saw the poster of Anurag Kashyap's upcoming production Aiyyaa which is being hailed as Rani Mukerji's big comeback vehicle (makes us wonder what No One Killed Jessica was!), and it left us confused. But when we watched the trailer of the film we realised why Rani, portraying a Marathi mulgi, was placed right in the middle, surrounded by a bunch of weird characters!
Director Sachin Kundalkar's Aiyyaa revolves around Meenakshi (Rani) who lives with her eccentric family, lost in a dream-like Bollywood fantasy world. One fine day she catches the smell of a hunky Tamil student (Prithviraj Sukumaran), who she stalks, much to his annoyance. Meenakshi's parents have found a suitable boy( Subodh Bhave) for her and they wish that their daughter gets married to him. Now, Meenakshi is caught between the realities of her life and the fantasy world created by the desirable dark hunk of her dreams. Will she get happiness from the man she has or will she chase her desires evoked by the man she lusts after?
The trailer is over-the-top and Rani is at her loudest best, reminding us of the Priyadarshan brand of comedy. But will Rani's antics and all this commotion make us laugh? We'll have to wait for the film to release on October 12 to find that out!