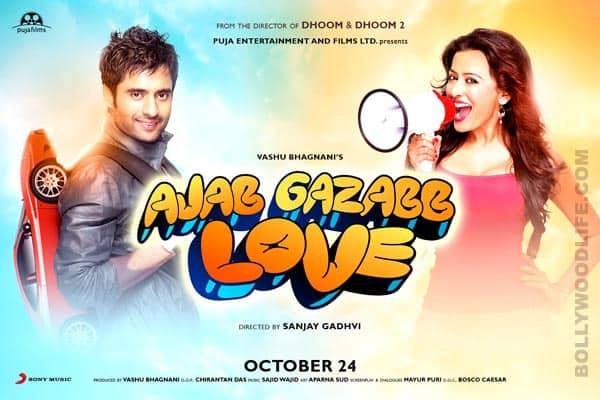 This one is almost torturous and totally not recommended! Yet, if you feel like taking a risk, watch it for Arshad Warsi and Kirron Kher's antics
Jackky Bhagnani aka Rajveer Grewal is a millionaire's son whose interest in life is cars. And being the unexplainable buck toothed genius that he is, he makes his own super car that retails for under Rs 25 lakhs. And right after designing his car and singing a song, he falls in love with a pretty young thing called Madhuri (Nidhi Subbaiah). She tells him that she hates rich men. So he pretends to be poor instead and makes his whole family go through the rigmarole of being poor. But like Jackky, the girl too is lying. She is a rich kid from Bhopal, whose twin power broker brothers (Arjun Rampal with his Chakravyuh moustache!) have stalled Jackky's genius car project. She tells her brothers that she has found the man she wants to marry and one of them, being the over-protective kind, goes with her to Mumbai to live with the 'poor' family. From this moment on the plot unravels, even as the two families meet and all is sorted out. And thankfully, in less than two hours, the Bhagnanis release you from the torture chamber that the theatre is!
To make a long review short, Ajab Gazab Love is a movie not based around a story, but around its protagonist Jackky Bhagnani, who is also the son of the producer. So it's Jackky that you see everywhere, wherever the camera turns to. He is dancing (extremely disoriented, almost stumbling!), prancing, doing air freezes once too often and mostly hamming his way through the story. The film has very few strong points – you can count them on your fingers. Kirron Kher as the mother does manage to draw a few chuckles as she acts as the poor blind mother. As is Arshad Warsi's cameo, where he plays a servant pretending to be the boss. The rest of film is made up of jokes that are sad, ill timed, over acted and at times outright offensive to the poor. The film almost begs for a laugh track so that the audience will know which scene is supposed to be funny! The production quality is cheap and cheesy, and makes you wonder why, when the producer obviously has the money to spare, he made such a tacky product. The editing is bad, as you can clearly catch cues from the actors signaling each other to start the scene – we counted at least three instances of this.
Nidhi Subbaiah is hot and busty in the right scenes, and hams her way confidently in others. Beyond that she is just a pretty face. As for the 'Hero' for whom the film was made – the only improvement in Jackky Bhagnani from last year's F.A.L.T.U. is the super toned abs that he flashes for at least 30 percent of his screen time and 90 percent of the time that he is dancing. And if you glance even casually, you can catch the careful ab-lines drawn by a crafty makeup-dada on the once-fat actor's stomach! His clothes fit him badly, and his acting is something to endure rather than admire. It almost gets in the way of the other actors, who do a decent job in carrying what's left of the story forward.
Rating: 1.5/5
* Poor – Avoid!
** Average – Give it a shot if you are desperate!
*** Good – One time watch!
**** Very good – Must watch!
***** Excellent – Don't miss!