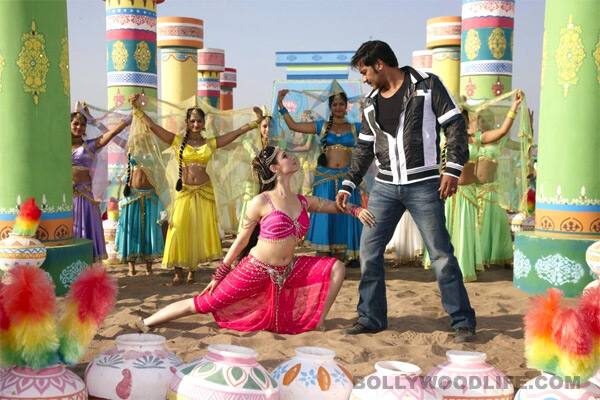 Director Sajid Khan recently shot the superhit song from the '80s for his upcoming remake
We saw a small glimpse of Ajay Devgn's non-dancing…err…dancing skills in Son Of Sardaar, and now Ajay has shot a full-fledged masala dance number for director Sajid Khan's Himmatwala.
Along with South siren Tamannaah, Devgn will be seen recreating the '80s hit track Tathaiya tathaiya that was instrumental in making Jeetendra a dancing star. But will Devgn just try to replicate those famous dance steps or will he try to establish his own unique quirky style? He's not ready to let that out yet, but he does look happy with the final result. "It is one of the most popular numbers from the 80s. Right from the sets to the costumes and the choreography, everything has been perfectly recreated," says Ajay.
The comparisons between Ajay and Jeetendra will be inevitable, even though Sajid feels that it's quite unfair. "I want people to make comparisons because I have done justice to the original. Of course, it will be unfair to compare Ajay to Jeetendra especially since Jeetendra's image as a dancer was strong at that time."
Ajay has taken on the challenge head on and he looks quite confident. But we will still be pleasantly surprised (or shocked rather) if he manages to impress us with his dance moves. Guess we'll have to wait a little longer to find out. Meanwhile check out the pic.