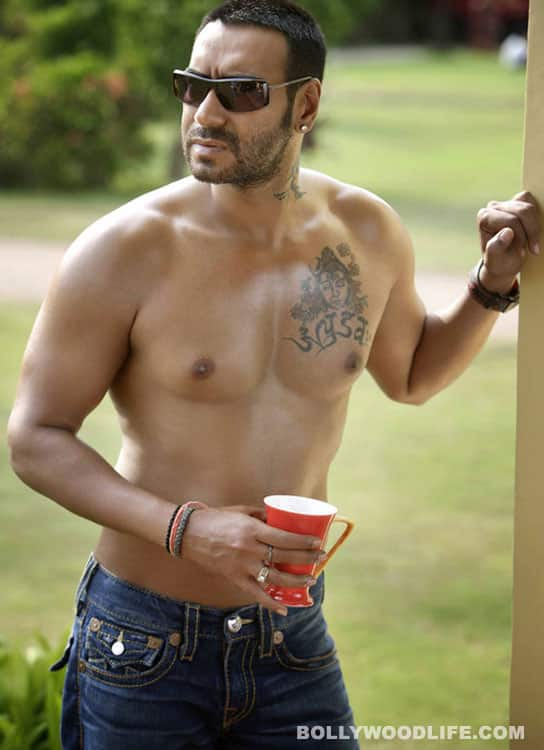 The Singham star – who turns 43 today – started out as an action hero, but in his two decade long career he has proven that he can do a whole lot more than break bones and pack a punch
In 1991, a tall, dark and lean actor made an impressive entry with Phool Aur Kaante, not just with an iconic opening scene (remember Ajay Devgn standing atop two moving bikes?) but also at the box-office. After a steady track of hit action films, fight director Veeru Devgn's son explored other genres and excelled in most of them. Twenty years later, he is one of the few B-town actors to have managed to surprise his fans with almost every film he has done. In 2012, Ajay continues the trend with diverse films like Tezz (an action thriller), Bol Bachchan (a comedy) and Son Of A Sardar (a romance drama). We look at Ajay's best work in romance, comedy, action and drama so far.
Romance – Hum Dil De Chuke Sanam & Pyar Toh Hona Hi Tha
We have had glimpses of Ajay Devgn's romantic side in many films since love is a prime ingredient of our screenplays, but the shy, sacrificing husband of Sanjay Leela Bhansali's Hum Dil De Chuke Sanam outshone everything he did, even the actiongiri he was popular for. A few years earlier, Ajay got all lovey-dovey in Pyar Toh Hona Hi Tha, with his real life girlfriend Kajol, but we think HDDCS was his best and most earnest attempt at being romantic on screen.
Action – Phool Aur Kante & Singham
Being a son of B-town's renowned action director Veeru Devgn, Ajay had to be good at fighting goons and jumping off buildings. That was one of the reasons he got into films with an action-packed film Phool Aur Kaante, when everyone else was trying to fit into the shoes of a quintessential romantic hero. His career not only took off with this film, but he also made an impact on audiences mind. It was only recently that we got to saw the same combination of intense performance and interesting raw action stunts in Singham and we were impressed all over again!
Comedy – Golmaal: Fun Unlimited
We thought cracking jokes and making people laugh is something that least suited Ajay's intense personality, but when we saw him as one of the goofy foursome in Rohit Shetty's comedy, Golmaal: Fun Unlimited we knew we were wrong. Though we don't think he has mastered the art of making people laugh, he is improving with every comic caper, at least all the Golmaal series. Maybe the film's director Rohit, who is Ajay's childhood buddy, knows how to bring his funny side out on screen.
Drama – Raincoat
Mahesh Bhatt's Zakhm and Prakash Jha's Gangajaal are the two films that first come to mind when you think of a serious and strong Ajay Devgn onscreen, but we think Rituporno Sengupta's mature drama Raincoat – a story of a one night encounter between two ex-lovers – was a better performance. He didn't have any dramatic dialogues or angry outbursts to back his performance, but the use of conversations and intense eye games to bring out the emotions of this love tragedy.
ALSO READ:
Can action hero Ajay Devgn do justice to Jeetendra's dancing style in 'Himmatwala' remake?