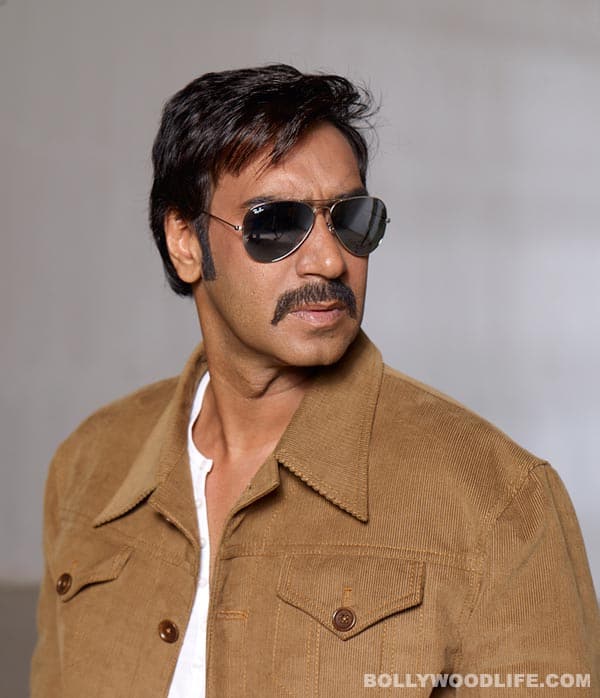 The Himmatwala talks about his much-anticipated release, his 'entry scene', why meaty roles are meant only for men, not doing double-meaning films after Rascals, why Kajol is the top heroine in Bollywood and more….
At a time when most actors settle into stereotyped roles while still in their 30s, a tiny handful break those shackles to portray a wide range of characters, winning accolades and maintaining an almost 100 percent box office success ratio when they are almost 50. Ajay Devgn is certainly among the minority in his generation who takes pride in his success, but far greater pride in being able to give his family the joy he thinks they deserve. Recounting his long and challenging journey to the top, AD tells it like it is…
According to Sajid Khan, your entry scene in Himmatwala will be one of the top three ever seen in Hindi cinema…
Trust Sajid to say that! (smiles) My entry is very dramatic, yet simple. Sometimes an entry scene ends up getting gimmicky, like the entry motorbike scene in Phool Aur Kaante, or riding on two horses in Son Of Sardaar. I hope you all will like it.
You and Sajid have been friends for years. Was friendship the real reason for you doing Himmatwala?
No, if that was the reason, we would have worked together in his first film, Heyy Babyy. But he had the Himmatwala remake idea in his mind and told me that he couldn't make it without anybody else but me. I also jokingly told him that only two or three heroes can do a film like Himmatwala.
You have done revenge dramas and maa ke khoon ka badla type movies in the initial years of your career. Himmatwala comes quite close to that… of course, with a contemporary set up!
Yes, if you rewind a bit, you feel that you've done something similar before, but for a change, Himmatwala was fun. And I'm sure people will accept this change.
You also seem to be fascinated with films belonging to the 1970s and 80s – Once Upon A Time In Mumbaai and now Himmatwala?
You make films with the intention to be liked by all. Fortunately, Bollywood is mature and the audience has also started accepting remakes. Once Upon… wasn't a remake. The script of Himmatwala is totally altered. I think today's youth hasn't seen what films in the 80s were – melodramas, typical mother-son, brother-sister emotions.
Is Himmatwala a safe bet, cashing in on the successful formula of remakes?
Nothing of that sort! Remakes are happening in Hollywood also. There are some successful stories that you want to revisit and tell in your own way. There are so many films being made that are new and remakes too.
You're not known as a dancing star. Were you slightly apprehensive doing Himmatwala, considering that along with maar dhaad, you would also have to do naach gaana?
I just followed Farah and Sajid Khan. Technically, I can do everything, but I'm not a dancer. I just did what suits me. But surprisingly, I didn't rehearse for a single dance step.
Today, the big stars are in their mid-40s and they're still calling the shots. They're still the ones the industry depends on. There are hardly any new stars who've come up to challenge this supremacy. How do you analyse this?
When the audience accepts an actor, then they accept them for life… till the actor is not fit to work any more. I think men become men in their 40s, the rest are all boys. If I give you the example of films that have worked in the last seven or eight years – like Ghajini, Dabangg, Rowdy Rathore or Singham – you cannot cast young actors in them. You can't justify it. And even in Hollywood, it's all about men. I'm sure there are young boys in Bollywood who'll eventually grow to be men and do the films that we are doing presently. So everything is about maturity and being a man. Heroism is being a man.
So depending on the age factor you choose roles…
Of course! If you ask me to do a college boy or romantic film, I cannot do it… forget that no filmmaker will come to me with such a role! Most of the meaty roles are for men, not kids.
Do you ever consider a role looking at only its box office prospects?
Yes, I do, because after you set a benchmark, there's a responsibility that you have to live up to it and provide full entertainment to the audience, especially your fans. I have not heard a script like Zakhm that that makes me not care about the box office, only for the sheer power of the script.
You've recently shot a campaign for Animal Planet – Where Tigers Rule – to save the tiger, along with Bipasha Basu. And Himmatwala also has a tiger…
(Cuts in) It's just a coincidence. The tiger is the second hero of Himmatwala who fights with me first and then becomes my friend. There's the humour element attached to the tiger scenes that people will like. Save the Tigers happened just one month ago – they wanted me to be the brand ambassador, so I agreed.
In an interview you said that henceforth you will not do films that have double-meaning dialogues and violence…
Yes, post Rascals I've decided not to do any double-meaning films that you can't enjoy watching with your family. If I do action films, I'll make sure that there wouldn't be violence in them. Recently I was watching a new film with my family which did well at the box office – I won't name the film – there was quite a lot of vulgarity in it and my father just got up and left the room; when I asked him, he said that he didn't want us to be uncomfortable.
There are rumours that Kajol will be seen onscreen again soon…
Yes, we are working on a script. She doesn't want to do something she isn't fully satisfied with.
At the recent FICCI Frames seminar in Mumbai in an interaction with Karan Johar, Kajol said – 'No one is better than me'. What would you say to that?
I agree. Without being biased, I believe she's the number one heroine and the best actor we have in Bollywood today.
You must've heard the story that production house UTV is using the Yash Raj Films tactic to sabotage Akshay Kumar's film. Something similar happened with you last year, didn't it?
Yes, I read that, but I don't know how much of it is true. I'm still fighting my case in court. My support is with the system and jo system sahi hai, woh follow honi chahiye. I still maintain that I'm not fighting against any actor or company… I'm fighting against wrong practice. So we have gone to the Competition Commission to look into the matter.