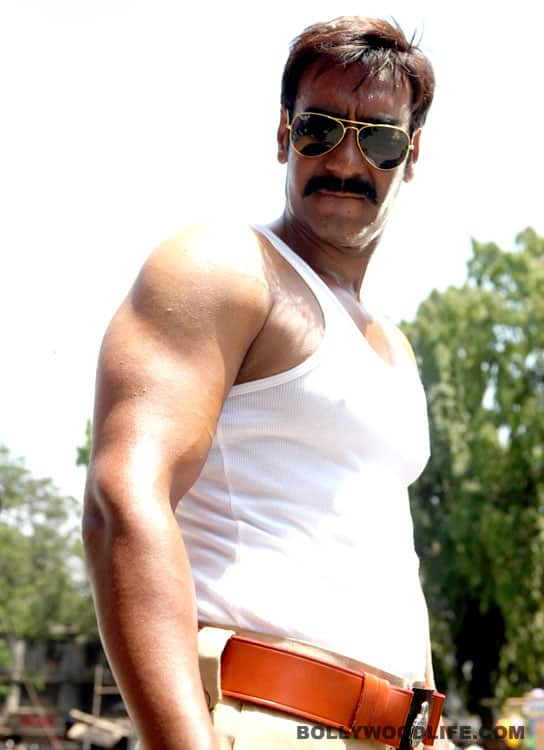 The original stunt…the new stunt – they're the same, and done by the same hero too. And Rohit Shetty's Singham is the perfect showcase for his brawn
It's been a long time since we saw Ajay Devgn jump off a running vehicle or plant a super punch on one of the villains. He's taking a short break from comedies with Singham, before going back to it with Rascals and Bol Bachchan. And we are sure he felt at home dabbling in action after almost nine years. "Yes, my last action flick was Qayamat in 2003. I haven't done an action film since because I wasn't getting any good scripts. I was waiting for the right one to come along. Singham is hard hitting— it's a balance between raw entertainment and fantastic action scenes."
The comparisons with Dabangg are obvious. Both are cop flicks with raw action and hard-hitting dialogue. "The only similarity (between the films) is that both the heroes are wearing a uniform and it's of the same colour," quips Ajay. It's one of those days when Ajay is in his classic one-liner mode. His natural and direct answers delivered with a tinge of humour make him a rarity in the industry. It's a good time to ask him about why Kangna wasn't cast in the film after the great friendship the two developed in Once Upon a Time in Mumbai… "There is no gossip here. They needed a fresh face, that's why we went for Kajal (Aggarwal). The casting required us to take an actor who is not exposed. That makes the film look real," Ajay replies quite matter-of-factly.
Ajay first rose to fame with his daredevil stunts and raw action, but that was when he was much younger. Now he's well into his 40s. Didn't he have trouble shooting for those strenuous action sequences? "I thought it would be difficult, but it wasn't. It is more physically taxing than a regular film, but I didn't have to work very hard." He adds, "There was a scene where I had to jump in the air, lock one of the gundas in my legs and bring him down. I knew I could do this with ease few years ago. I told Rohit, I'm not sure if I can do it, but I'll try. Thankfully, I can still do it. I could manage most scenes without any computer effects." In fact, in one scene Ajay had to jump out of a running jeep and decided to do it without any help. "How I did it is a secret. All I can say is that it's not computer graphics." And what about the perfect six-pack abs that he's showing off, with that tattoo on his chest? How hard did he have to work on getting those muscle cuts? "Not much. Just trained slightly harder than usual and maintained a stricter diet. I managed to stick to the diet, except for the alcohol!"
He's been getting a lot of praise for that body from his buddies in B-town. Salman Khan even tweeted about how he liked Ajay's six-pack. "That was sweet of him. That proves that this rivalry talk makes no sense. We, especially the five or six actors who came into the industry around the same time, always support and encourage each other. In fact, Sanju and Salman are waiting to see the movie."
It's not only his body or the action sequences that he had to work on during the making of the film. Ajay also had to work on his Marathi diction. "I have some dialogues in Marathi, including the much talked about 'Phakt Bajirao Singham' one. Kajol did help me with it. She corrected me in a few places. But we haven't made an art film. It's not so deep and intellectual, so we didn't have to show me speaking too much Marathi," he says.
There was a time when action films stopped doing the trick at the BO and the industry moved into a rom-com phase. Has Ajay come back to the dhishum-dhishum genre because now it's back in business? "It's not about whether its action or comedy. It's about whether it's a good film or a bad film. When action films were working, everybody started making them. Actually, they had started making stunt films. Char gane aur char stunt daal do, story koi bhi ho…chal jayegi (put a couple of songs and a couple of stunts, it didn't matter what the story was). That's why those films stopped working at the box-office," he explains. So it's almost as if we have gone back to the cinema of the 80s— the macho hero, the dhaasoo dialogues, the maara-maari and the evil villains. "Audiences always wanted entertaining films like these. But we (the film industry) had forgotten that. We were trying to be too intelligent! People started thinking they would make classy cinema and all, but when films like Ghajini and Wanted worked, we realised that audiences still enjoyed it," he concludes.