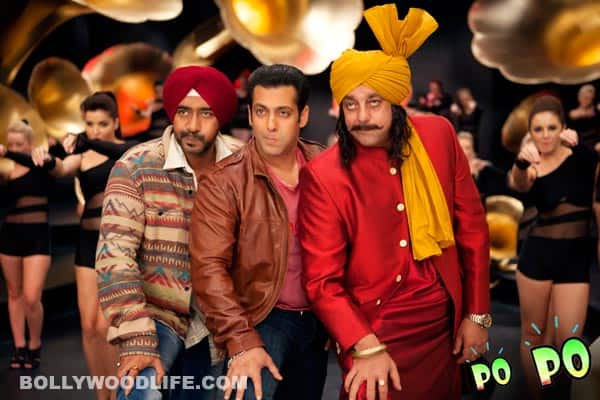 The actors are seen grooving to mindless lyrics in Son of Sardar's new song, Po po. While Sonakshi happily shakes a leg to this mind-numbing number, the male actors (Ajay, Sallu and Sanjay) are seen conveniently resorting to pathetic dance steps
Although this song is very Punjabi and filmi from the mukhda to the antara, we wonder what's with the lyrics. Penned by Shabbir Ahmed, this track is a perfect for one of those days when you are in a goofy mood. There's this one line in the song in which Ms Sinha's cheeks are compared to apples. Now we are sure you get a fair idea of what this one is all about – unhinged heroes going on a clumsy dance spree. And trust us, there couldn't be a better song that we could pick up for a lost in translation routine. Have fun, readers!
Po po popopo.. po.. popopo..
Po po popopo.. po.. popopo..
Teri gandi jaisi walk teri sweeti sweeti talk tere attitude mast soniye
Your dirty walk and your sweet sweet talk, attitude is awesome yours beautiful
Mud mud ke na dekh
Back back do not look
Aaja lage ja gale soniye
Come hug me beautiful
Tere seb jaise gaal tu hai mind blowing wala aaja nach le
Your apple like cheeks, you are mind blowing, come dance
O soni nach le o soni nach le mere naal le
Oh beautiful, come dance, come dance with me
Po po popopo.. po.. popopo..
Po po popopo.. po.. popopo..