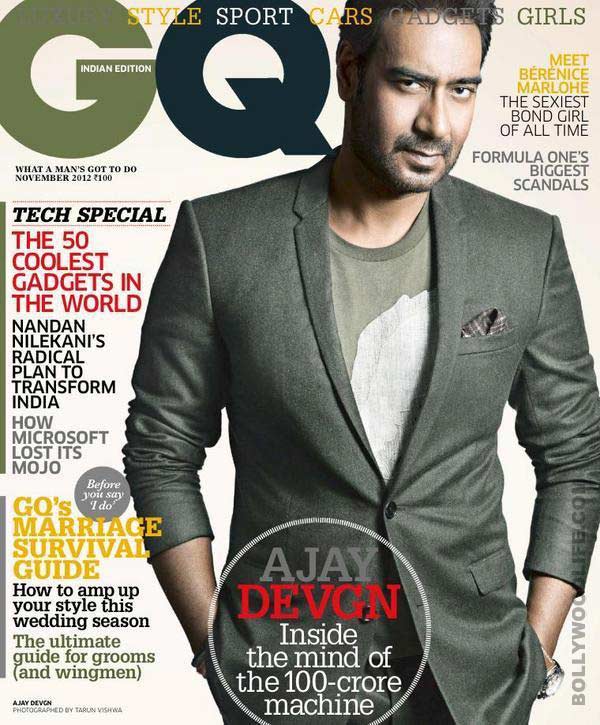 The actor is seen posing in a nonchalant manner on the November issue cover of GQ magazine
Ajay Devgn's semi-formal style on the recent cover of a popular men's glossy is sure to attract eyeballs. The Son Of Sardaar actor seems so much at ease. And as he casually places his hands in his pockets, and flashes a contemplative expression, the creative dudes have very strategically come up with a fitting headline for his relaxed pose. 'Inside the mind of a 100-crore machine' – that's what the caption below his picture says. We aren't surprised to see Mr Devgn catch his breath here and revel in a few moments of peace after the crazy war he's had with the makers of Jab Tak Hai Jaan.
One more reason for us to grin from ear to ear is that this cool look is such a breath of fresh of air, especially after witnessing a host of style flaws in his recent movie Son Of Sardaar. As everything gets amplified on the big screen, we weren't lucky enough to escape Ajay's stained black teeth, craggy chapped lips and dirt-filled nails. The man seriously needs to apply for an advanced course in grooming.
But we stopped complaining as we laid our hands on this super cool poster. The grey blazer, the casual T-shirt and neatly trimmed stubble is making Ajay look like an absolute style icon – quite contrary to his avatar in SOS, we say!