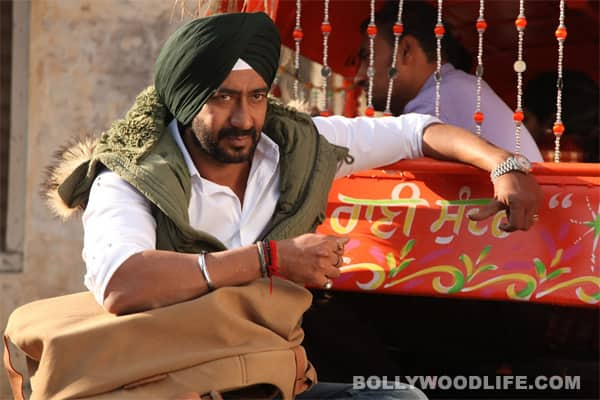 He has been around and active for over two decades, but has never been embroiled in controversy. But this time Ajay Devgn seems to be caught in a situation plotted by fate. His Son of Sardaar clashes with one of the most eagerly awaited movies of this year – the late Yash Chopra's Shahrukh Khan-Anushka Sharma-Katrina Kaif starrer Jab Tak Hai Jaan. And Devgn is not the bad guy, he insists….
Cinema is not just an emotional investment, but also a very big and risky business proposition. So when a very sensible actor-filmmaker like Ajay Devgn – who shies away from anything that creates negativity in the industry – is embroiled in a controversial mess, he finds it difficult to deal with. Devgn tries to explain why he has to release Son of Sardaar on November 13, even though it clashes with the last film that Yash Chopra directed, Jab Tak Hai Jaan, starring Shahrukh Khan, Katrina Kaif and Anushka Sharma….
You have played a sardar earlier; how different is SOS for you?
The character of Bhagat Singh was very special to me. While playing it, I wondered if there could actually be a man like him. SOS is about how you usually perceive a sardar to be. Sardars are known to be larger than life. Whatever they do, they do it loudly – they laugh loudly, they express their love loudly by hugging tightly, ladte bhi zor se hain. So this is larger than life entertainment.
Your last film Bol Bachchan entered the Rs 100 crore club. Naturally, as a producer, you must have high expectations of SOS…
I am very confident about the film. The film has got good buzz, good songs, so everything is very positive right now. The rest is left for the audience to decide. If you don't get biased about your film, toh samajh mein aata hain ke film kaisi bani hain. We all have seen the film and so I feel everything is positive right now, but ultimately the audience will decide its fate.
The controversy that has erupted between the two films – SOS and Jab Tak Hai Jaan – just before their release… did you try to sort out the issue personally before serving a notice to Yash Raj Films?
We have been fighting it with the exhibitors and distributors to the point that they could do anything and then we decided to go to the Competition Commission of India, which took us more than a month because it's a lot of paperwork; it's been going on for the past three months now. We tried to convey our messages through our exhibitors, but when that didn't happen, we had to take this step. I'm not a person who would indulge into anything just to create controversy, because I hate controversy. But what has to be done, has to be done.
It seems like the people at Yash Raj are completely ignorant about the whole issue…
(Cuts in) They are trying to be ignorant. When you are wrong, you don't respond. I've read their response – they are trying to fool you guys by saying that there are 10, 500 screens. But in today's time, I don't think the media is so ignorant and stupid that you could fool them. If I had 8,000 screens, am I a fool to spend my money, lose my reputation and go to court – does it make sense? Don't take anybody's side; just go by the statistics: of the 10,000 or 12,000 theatres, over 5,000 to 6,000 are in the South, where only regional films release and there's no Hindi audience. How many left – 4,000-or 4,500 screens? Of these theatres, 1,500 are closed. Now the quantity of operational theatres is already low. Every year, at least two films release during Diwali. If the two films are good, they run at the box office. You take a look at the BO record over the last ten years – whenever two films are released, unka batwaara kaisa hua hain, in terms of getting the equal number of shows. I'll give you one example – a place like Dadar has seven single screens; YRF has blocked six and we have only one. In Delhi, there are 21 single screens and we have only three. These are actual figures.
This has never happened before. If they can issue a statement and fool you like this, then I don't think you should also take things as is. You can verify the figures and then take your call. I'm not asking you to take my side. Follow what is right. I'm not the kind of guy who would discuss these things, but I have no option.
Don't you think it's negative publicity?
I'm not a person who would discuss all these things with the media. There were two to three articles that appeared recently. But I didn't comment because I thought jitna easily sort out ho jaaye utna achcha hota. But I cannot help it. It is eventually negative publicity and I don't want that. Agar mujhe unse ladna bhi hain, toh mujhe lagta hai ke main apna product achcha banau. Apni lakeer lambi karne ke liye main samne wale ki lakeer choti toh nahi kar raha. See, the intention is to scare the person and block as many theatres as possible, so that the person decides not to release.
There's buzz in the industry especially after Yash Chopra's death that JTHJ has already become golden and there's controversy now, which sells tickets. Aren't you worried?
I was worried, but at the same time you have to understand, we filed the case much before the sad demise of Mr Chopra. So when this happened, I felt people will target me now. Nobody is going to understand my point of view. So I was the villain on both sides. If I withdraw, I'm a villain and any lawyer will say that in cases like this, you cannot withdraw. It's not a normal court. I'm fighting for my rights. Even if I complain – I'm not saying Yashji ki picture rok do; I'm asking for a fair deal. I'm not asking for compensation. That's not my concern. I haven't done anything that will harm anybody. I wish their film to do well at the BO. Tomorrow, if I win, it will be my benefit, but if I don't, it's okay. If I win, kisi aur ka loss nahi hoga.
The promotions of JTHJ are on. Are you feeling insecure?
Even if I feel it, I cannot say it. I don't want to get into that zone, because I'm not fighting with anybody. I've put my problems to the Competition Commission. If everything sorts out tomorrow, then we will be one big happy family. I will not hold any grudge against anybody.
Have you been asked to postpone the release of your film?
No, I wasn't asked to push the release, but some people suggested I do so. I respect Yashji as much as anybody else. We have grown up watching his films. But now it is too late to back out, because Rs 70-80 crore is at stake. And it's not just my film. There are two corporates involved, so I'm answerable to them and also my shareholders who have invested their money in my film. It's not an easy decision. My only problem was a date. Do you want me to release my film with Aamir Khan or Akshay Kumar? Why don't they (industry) ask Aamir, Akshay and Salman to postpone the release dates of their films?
The warmth that people shared before is certainly missing. We used to go to each other's film sets and have fun, but while the advent of corporates has resulted in better business, that charm is not there.
Reports suggest that you are at war with Shahrukh Khan?
Trust me, it's not true. It's not actor Ajay and actor Shahrukh war. It's not even a war. It's Ajay Devgn's fight as a producer for his rights with another producer. Even if we meet today, we share the same warmth and affection.