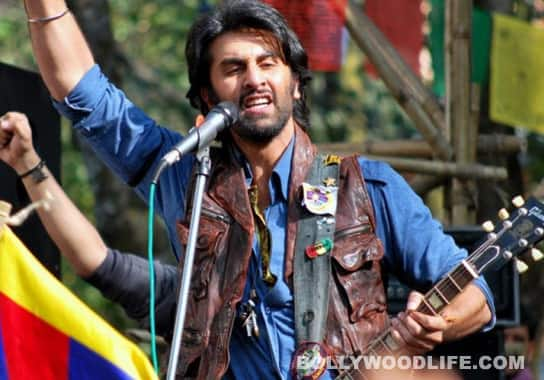 On January 26, 2012, the two films clash with each other, as also Dibakar Banerjee's Shanghai
Republic Day 2012 is going to be very interesting indeed. Priyadarshan's long delayed Tezz, starring Ajay Devgn, Anil Kapoor and Kangna Ranaut was due for a November 11 release, the magical 11/11/11 date. However, the producers in all their wisdom decided to postpone it to January 26, 2012, citing that another film was releasing on the November date – the team behind which the Tezz people are friends with. Essentially, Priyan and co got scared when they saw the trailer of Imtiaz Ali's Rockstar, starring Ranbir Kapoor and debutante Nargis Fakhri, featuring an awesome soundtrack by Oscar, BAFTA and Golden Globe winner AR Rahman. In its closing frames, the Rockstar trailer proclaims – 11/11/11. Hence the panic and shift in release date.
However the Tezz team forgot that a tiny little film is also releasing on Republic Day – Reema Kagti's Dhuan, starring a certain Aamir Khan. Now, Tezz producers Venus are caught between a rock and a hard place. Rather than go head to head with an Aamir Khan film, they are most likely going to delay the release date by a week. January 26 also sees the release of Dibakar Banerjee's Shanghai, starring Emraan Hashmi and Abhay Deol. Perhaps that film might get drowned in the Aamir deluge, much like the Bodyguard wave washed Anurag Kashyap's That Girl in Yellow Boots away.
Speaking of Bodyguard, there is a good chance that there may not be a film like it in a while, or for that matter films like Singham, Ready, Ghajini or Wanted. This is because the source industry, south India, from where these films are remade has gone on strike due to a dispute over wages between producers and film workers. Now, it is a well established fact that south Indian film crews are the most efficient in the country, finishing shoot schedules on time and sometimes even ahead of schedule. Alas, unlike their Bollywood counterparts, they are poorly paid.
The Film Employees' Federation of South India (FEFSI) decided that enough was enough and demanded a wage hike. A partial compromise was reached in Karnataka where wages were increased between 10-28 percent and in Andhra Pradesh where salaries were hiked by 30 percent. In real terms, this still is a pittance and FEFSI demanded a 50-100 percent rise in payments. The almighty Producers' Council balked at this and rather than film workers going on strike, they turned the tables and unilaterally decided to stop all new film projects rolling from September 7. As for films already shooting, the Council directive is to complete filming by October 31. Producers who choose to ignore this directive will no longer enjoy the support of the Council. Meanwhile, it is the poor film workers and their families who will go hungry, while the fat cat producers, having enough and more in the bank for their Chicken Chettinads and Johnny Walker Blue Labels, will merely wait for this storm to blow itself out.