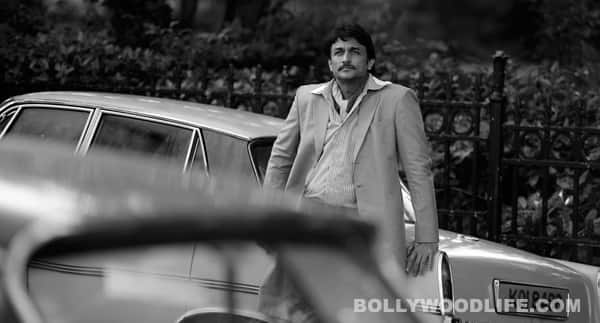 skip advertisement
The well-known Marathi star will be seen playing a RAW agent in Bejoy Nambiar's David and in Anil Kapoor's Indian adaptation of the American TV series 24 to be aired on Colors
Ajinkya Deo is a known name in Maharashtrian cinema, but he clears misconceptions about him being showered with Bollywood offers and that he is an extremely conceited person. In fact, as he says in a very earnest tone, "Just 'coz I am into production, people think I don't want to do films any more, whereas all I do is sit in the production house, as my brother owns it – I am just part-owner." Not even a tad intimidating despite being quite a senior in this profession, Ajinkya has an aura that puts you in an instant comfort zone. And, of course, the intermittent humour is like icing on this awesomely baked conversation. "I stand 6 feet 2 inches tall, so I would like to do films that fit me," is one of the lines in the confab that brings on a giggle. That's AD – son of veteran actors Ramesh and Seema Deo and brother of Delhi Belly director Abhinay Deo – for you, down to earth and slightly cheeky…in a good way, of course!
Tell me something about your role in David…
It is a very intelligently crafted film. I am playing a RAW agent and, incidentally, the film begins with me. It starts in 1972, and Neil is the gangster in the film. I have been asked to take Neil into custody from Ireland. All I can say is, I had amazing fun working with Bejoy Nambiar.
What was the first thing that impressed you about your character in David and helped you make up your mind about doing the film?
I was very impressed with the way Shaitan was made; that was one reason why I was excited to work with Bejoy. It's been a long time since I have worked with the young brigade of Bollywood. My look is different. I am sporting a moustache in the film. And I remember having a moustache when I first entered the industry 20-25 years ago.
Tell us something about your role in 24?
I am playing the father of a teenager and the first episode begins with me. And towards mid-season there's a twist to my character. Can't say anything beyond this now…
You are an established name in Marathi cinema – do you get a lot of Bollywood offers? 
Honestly, I don't get many Bollywood opportunities. I don't know what happened; maybe people mistook me for someone who's laidback or maybe I didn't do much networking or PR. And when you don't hobnob much, people want to believe in stories that are floating around. There were rumours that I charge an exorbitant amount and I am very high-handed. You have to make an attempt to be a part of the industry and I failed to do that. But at least I've learned my lesson.
You and Abhinay are creative people; every creative person has an ego – so do you guys have your share of differences?
Yeah, which is why we designate the work. When he is directing, I am producing. And even then we have a line producer in between who acts as the buffer. Today Abhi is a big name; he has tasted success. So whenever I feel bad about something I voice it, but don't impose anything on him. My chemistry with him is good, but not great. He is younger than me by six years, so when he was growing up, he had two fathers to face. Well, we are trying to work on the age barrier.
Does he ever give you inputs on your films?
He does, but not always. This is the first time I will be acting under his direction in 24.
What do you personally like most about David?
The entire retro feel – and the story-telling is superb.
What's that one thing you have learned from both industries – Marathi and Bollywood – that has helped you evolve as an actor?  
They both are different schools. In Marathi cinema, when I started off, the work structure was very close-knit. We would spend days together on a shoot, like a family. But Hindi is different. There is nothing called a 'star' in Marathi cinema, but Bollywood is always dominated by a star. I have had the opportunity to work with Amitabh Bachchan, Ajay Devgn, Raj Babbar and Akshay Kumar in the early days of my career. I was friends with them, but that was restricted to only the duration of the shoot. So although it's the same medium, the way both these industries groom you is different. Again, to penetrate in Hindi cinema, the way the Marathi industry has groomed you won't work. In Bollywood, it's extremely important to be a part of it, and I completely missed the bus there.
What's your attitude in David?
In one of the scenes, I come across a person from Neil's gang, and that guy looks me in the face and reveals everything about my life. And I look back at him and blurt out his history in return…so that's what the attitude is.
Were you inspired by any Bond film?
I prefer to go where my director wants to take me. I don't enter the sets with preconceived notions, or there will be clash of identities. I love to give suggestions, but that's about it.
24, David…a lot of action-packed roles happening for you. Do you miss romancing onscreen?
You know, I have romanced a lot on and off screen. For a change I am going to just act now and fight my way into the industry. As SRK said, picture abhi baaki hai… (laughs)
Your parents were established names in the industry. Did they ever give you advice on how to sustain your career here?
See the point is, their wisdom worked in their times. I am not saying their wisdom wasn't useful; it worked, but not always. You need to have your own experiences. My parents always taught me that good actors come and go, but good people stay. But today, doing bad is good. I believe you have to be slightly bad to sustain a career in a place like Bollywood.
Who's your personal favourite in David – Neil, Vikram or Vinay?
Vikram is a star, he is a God in the South but I haven't seen any of his films. But I have seen Neil in Johnny Gaddaar; he is a nice human being, so I would say he's my favourite.
What kinds of films would you like to do in the future?
I would like to make films that make sense to me and to the people. Something that would urge people to make their lives better, 'coz the mood of the country is such that everything is messed up in some way. So if I was blessed with a choice, I would like to do films like 3 Idiots.
How different are you from Abhinay?                                                  
Abhi is very creative and focused. I have always lived in the moment. Although he is very fun loving, he knows what he wants. He concentrates on one thing at a time, whereas I do several things at a time.