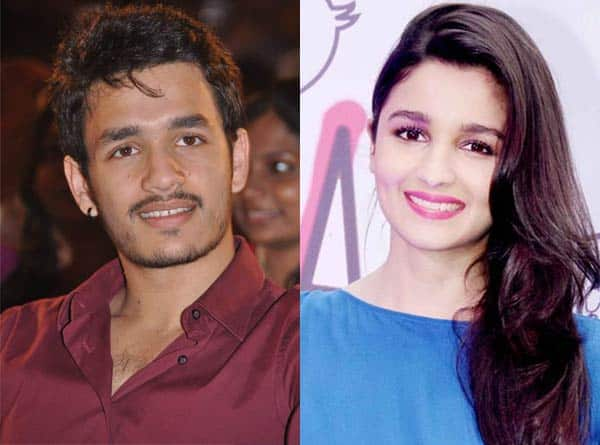 Rumours are rife that Akhil is about to romance spunky Alia in his debut film
The youngest of the Akkineni family, Akhil Akkineni is making waves in Tollywood after his small cameo in the Akkineni's family film Manam. Akhil has received a rousing response from the fans and is soon expected to make a debut as a hero. Recently even superstar Mahesh Babu declared Akhil to be the next superstar. The little birdie tells us that the dashing lad may romance the Bollywood cutie Alia Bhatt in his first film as hero.
Apparently, Akkineni Nagarjuna had approached the famous Telugu producer Ashwini Dutt to rope in young Akhil in the leading role. Producer Ashwini Dutt has created a lot of stars over the years and had given break to likes of Allu Arjun and Ram Charan Teja. It is being said that makers have signed the writer-director Prasthanam of Deva Katta fame to shape up the film.
Grapevine has it that the makers have approached Alia Bhatt to play the leading lady of Akhil Akkineni. Alia seems to have struck with South Indian filmmakers fancy as this is the second time in past two weeks that the South movie bosses have shown interest in the 2 states chick. Earlier, the Tamil filmmaker GNR Kumaravelan had disclosed about his meeting with Alia Bhatt.
If all goes according to plan, the fans will get to see a new pair of Akhil and Alia on screen. Oh yes! We believe they will look cute together.