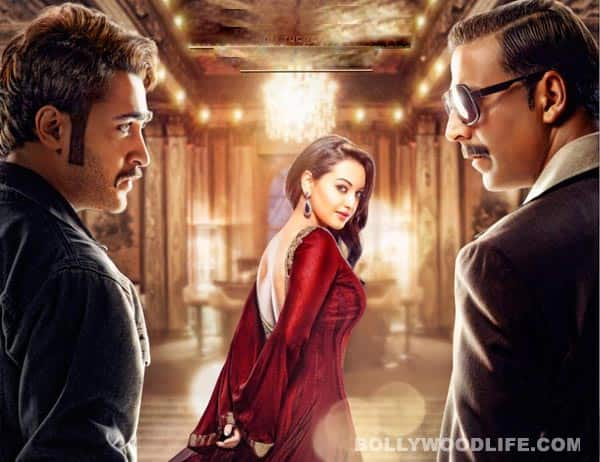 Both Akki and Immu feel that Sona is scheming against them. Read on to find out the exact causes and consequences!
Milan Luthria's Once Upon A Time In Mumbaai Dobara is a love triangle and the story of one-upmanship between Akshay Kumar and Imran Khan to win over their lady love – Sonakshi Sinha. In the recently released song Yeh tune kya kiya from the action thriller, both Akki and Imran are madly in love with Sinha so much so that they blame her for putting them in a tight spot. The Khiladi says he's forced to roam like a wanderer whereas Khan feels he has lost everything for the babe. After listening to this Pritam composition, we too were forced to translate the lyrics of this mushy number into English word-for-word. Take a look!
Ishq ki.. saazishein
Ishq ki.. baaziyaan
Haara main khel ke
Do dilon ka juaa
Love's scheme
Love's victory
Lost I game in
Two hearts' gamble
Kyun tune meri fursat ki
Kyun dil mein itni harqat ki
Ishaq mein itni barqat ki
Ye tune kya kiya
Why you mine leisure did
Why heart in so much behaviour did
Love in this much growth did
This you what did
Phiru ab maara maara main
Chaand se bichhda taara main
Dil se itna kyun haara main
Ye tune kya kiya
Roam now hit hit I
Moon from separate star I
Heart from so much why fail I
This you what did
Who will Sonakshi Sinha fall for – Akshay or Imran? We'll know that once this Ekta Kapoor home production is unleashed on August 15.