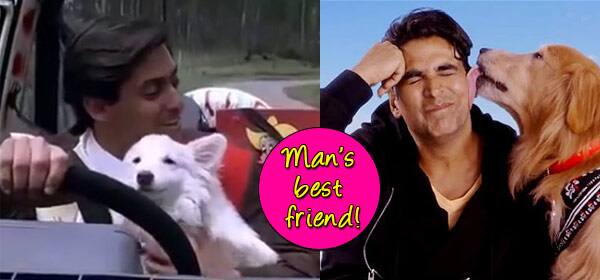 skip advertisement
Teaser-Salman-Akshay-060814
Ever had a friend who was so giving and loving that you wouldn't even have to speak a word about your sorrow but they would just get it? We all need that kind of a relationship in our lives and pets, more often than not, prove to be the agreeable friends who never have demands, they simply give. And cinema being a reflection of life has some of man's best friends play pivotal characters in films.
Entertainment which is set to release this Friday has Akshay Kumar and his fuzzy playmate in the lead roles to retell the age-old tale of how deep a man and animal's friendship can be. It also called for taking a look at all the films in the past which have had animals play protagonists…
Entertainment: We begin with this one as this will be the latest depiction of how a dog can transform and affect a man;s life. Akshay Kumar will be playing the doggy's best friend. We heard that Akshay insisted on how the dog's name should appear in the credits first, even before the actor's name and we were touched by the Superstar's gesture.
Yeh Hai Bakrapur: Shahrukh, the goat in this film is nothing less than a central protagonist as the plot's crisis revolves around him. The film is a social satire and has the goat acquiring a rock star's status. But it also has the character of Zulfi (Shameem Khan), the child who adores Shahrukh a lot and does everything in his power to prevent him from being sold.
Chillar Party: A group of kids come together to fight for the rights of a dog and take on corrupt politicians while doing the same. The film had a fantastic plot and the gang of naive kids transforming into a group of responsible citizens to save a stray dog's life made the right noise among audiences.
What the Fish: Dimple Kapadia plays an insufferable croon and while she bites the rest of the world she bears unbounded affection of her fish Mishti. Though the film wasn't really the best of cinematic works ever produced, Dimple's fondness for a fish in a bowl was certainly worth a watch.
Hum Aapke Hain Koun…!: Do you or do you not agree that this Salman Khan and Madhuri Dixit starrer would not have gotten together in this one had it not been for Tuffy? Probably one of the most intelligent dogs on celluloid and strangely circus trained, Tuffy the dog was not only the in-house messenger, match-maker and protector of the wedding shoes, he was also an umpire! Seriously, how talented can a dog be!
Maine Pyaar Kiya: The pigeon in this Sooraj Barjatya romance played the role of a typical messenger and in the hour of crisis he also helps Salman getting his lady love, despite an evil Mohnish Behl trying to cut his wings! Poor pigeon! But don't worry folks, the birdie escapes unscathed.
We didn't go too far back in time but films like Haathi Mere Saathi, Maa and Betaaj Badshaah have also had animals playing central characters.
A latest film that piqued our interest is Dil Dhadakne Do as in the poster you can see the six main characters chilling on a deck but along with them is also a sad-looking doggy who is gazing at the sea. We wonder if the dog will play an important role in DDD, perhaps more on that once the release date approaches!