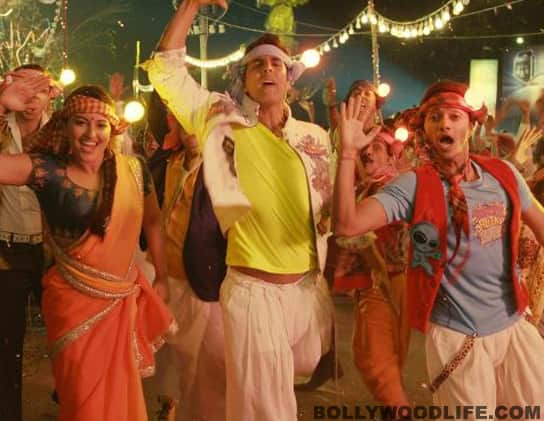 As a damage control measure, the actor is making sure that Joker releases after Rowdy Rathore, both films co-starring Sonakshi Sinha
You may have noticed that all the hype and buzz around Shirish Kunder's ambitious 3D film Joker has died down in the last few months. Reason: The film's lead actor Akshay Kumar is very disappointed with the way the project has gone. A source from the sets told us that the actor was on the verge of disowning the film and ensuring that it never hit the screens. Shirish, who was still reeling under the effect of the slap he got from Shahrukh Khan realised that this slap from Akshay hit far harder!
Joker, as we told you earlier, is about a town full of insane people who have escaped from a mental hospital and how an alien puts their town under the scanner. The one line description of the film is enough to put anyone with average intelligence off watching it, wethinks. It makes us wonder why Akshay took this long to figure out that Joker had a great chance of falling flat on its face! Perhaps he was just being kind to his old friend Kunder despite their disastrous outings together – Jaan-E-Mann and Tees Maar Khan (both scripted by Kunder).
But the generosity seems to have backfired. Our buddy the little birdie chirped that Akki was livid after watching the film and rebuked the director. Disappointed with the outcome of the film, Akshay began to think of a way out, some kind of solution that could make his image look shinier. After many brainstorming sessions, the actor and the director called a truce by deciding to release Joker after Rowdy Rathore was out.. Akshay has a lot of confidence in Prabhu Deva's film (RR) and didn't want Joker's potential poor show at the box office to have a negative effect on RR. The stocks of the Khiladi Kumar as a solo hero have been plummeting with every release and he doesn't want to ruin his BO status even further.
It's a little too late to scrap the film entirely, Akshay, so all you can hope for is a miracle!
ALSO READ: Shahrukh Khan fans continue bashing Shirish Kunder