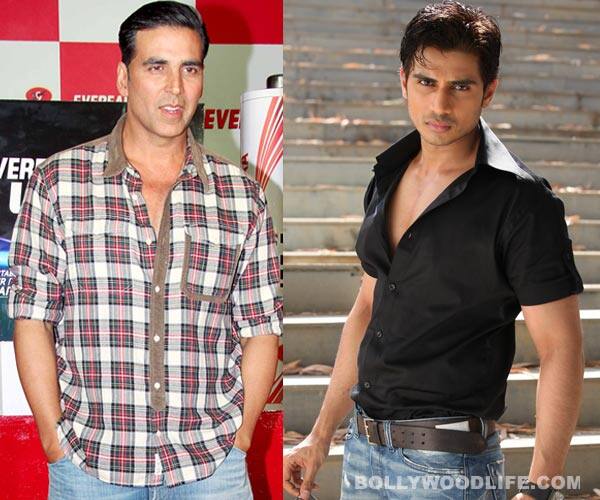 Cineswami tells us about the actor-producer's three-film deal with Shaitan actor Shiv Pandit
Remember the movie Shaitan, and one of the actors in it, Shiv Pandit? No, we neither. But Akshay Kumar does. Apparently, Khiladi Kumar was so impressed with Pandit's performance in Shaitan that he called up the young actor to audition for a role in Boss and cast him in it opposite Aditi Rao Hydari. Boss, due an October release, is being directed by Anthony D'Souza, whose debut film Blue was a multi-crore disaster. The film also stars Mithun Chakraborty and Danny Denzongpa.
Here we quote from the film's PR machine: "A source close to the team said, Akshay absolutely enjoyed seeing Shiv's performance onscreen in Shaitan and he thought that he would perfectly fit the character in Boss. In fact, after the audition, Akshay met Shiv in person and told him about his performance and offered him a three-film deal."
Since the quote is coming from the film's promotional team, why do they quote 'a source close to the team' and not, say, Kumar himself, or D'Souza even? Mystifying to say the least, but such are the workings of Bollyland.
Anyhow, hearty congratulations to Pandit on his three-film deal and let's hope that he makes it big in Bollywood in years to come. Apart from Shaitan, his only release has been the Tamil film Leelai, where he was impressive, but was overshadowed by the comedian Santhanam.
Speaking of Santhanam, he is the only bright spark in the decibel fest that is Singam 2. Suriya roars, the soundtrack blares and for Santhanam to make a mark in what is purely a hero vehicle takes some doing. Spare a thought for Vivek, the comedian whose throne Santhanam usurped. He's also present and accounted for in Singam 2, but doesn't leave much of an impression. His time in Tamil cinema seems done. Wonder who Santhanam's replacement will eventually be, but as for now, there doesn't seem to be a contender in sight.
Meanwhile, Santhanam is busy with the Tamil remake of SS Rajamouli's Telugu superhit Maryada Ramanna, which was inspired from Buster Keaton's 1923 film Our Hospitality and was remade in Kannada as Maryade Ramanna, in Bengali as Faande Poriya Boga Kaande Re and in Bollywood as Son of Sardaar. The Tamil remake, being directed by Srinath is titled Vallavanukku Pullum Aayudham and will have music by Anirudh Ravichander of Kolaveri di fame.
While in Tamil Nadu, let's take a look at the biggest stars there. There is no news on the much delayed Kochadaiyaan, starring a motion captured Rajinikanth and Deepika Padukone. There's no news of even a trailer, which was supposed to be released on the sidelines of the Cannes film festival but did not materialise. Hardcore Superstar fans are getting worried.
And the proposed August 15 release date for Vishwaroopam 2 is not confirmed yet. Kamal Haasan released a poster for it at some minor Bollywood event that happened in Macau over the weekend, so there is hope yet. Plus, there is concrete news about his film after that. It's going to be an untitled venture produced by Linguswamy's Thirupathy Brothers production company and will be directed by Ramesh Aravind. Kamal had acted in Aravind's Kannada remake of hit Tamil film Sathi Leelavathi. The film will be a comedy. There is however no news of Kamal's much ballyhooed Hollywood debut to be produced by Lord of the Rings producer Barrie Osborne.