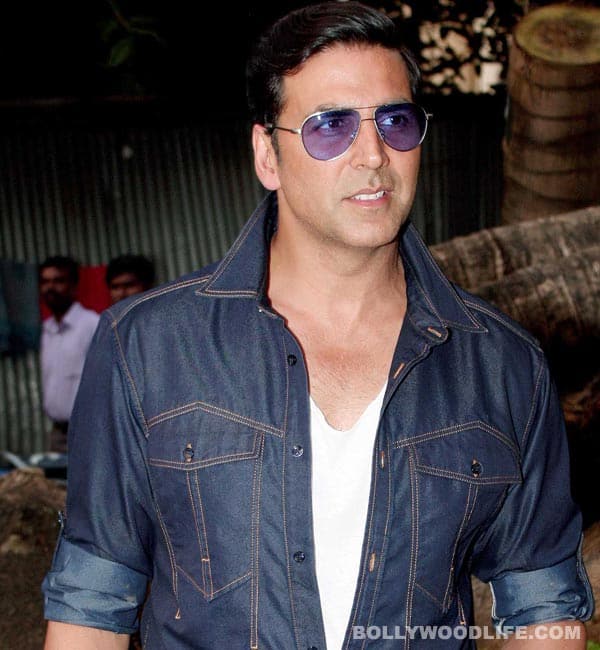 Then what made Akki change his mind? And what changed between Akshay and Anupam Kher while on the sets of this movie? Read on to know Action Kumar's version of it all…
Akshay Kumar is gearing up to play the role of Ajju in Neeraj Pandey's Special 26 that's slated to release on February 8. And this time around, the Khiladi will be seen in a role that's devoid of any action. But Akki doesn't have any qualms over that one. In fact, he jests that Special 26 has a different kind of action, "This movie has mind action. It's about how one will use his mind to get action. It's fighting without a fight." We smiled.
Akshay said no to Special 26
But if 'action' wasn't what kept Akki away from the movie, what did? "When I first read the script, I wasn't very convinced," AK explains. At that time, crestfallen Neeraj Pandey received an intimation from Akshay Kumar's office that the actor wasn't too sure about the script. After three years, Neeraj decided to narrate the story to Akshay once again. "When I heard the story from the writer's mouth, it began to sound very interesting. That's when I said yes," Akki says.
Preparing for the role
As the discussion veered towards the preparation for the role of Ajju, Akshay Kumar reveals that he didn't do his homework. "I didn't have to do any homework because Neeraj had done his work very well. I just used to come on the sets and do what Neeraj told me to do." Was it the same for 'character actor' Anupam Kher as well? "We had workshops. And Anupam ji prepared in the same way that other actors did. There was no different preparation for a character actor and a usual actor," AK reveals.
A friend in Anupam Kher
While on the topic of Anupam Kher, Akki also confesses, "While we had done many films together, it was during the shooting of this film that I found a great friend in Anupam Kher. Now we speak to each other every three-four days."
The film's motto
Everyone who must've watched the trailer of this movie isn't oblivious to the movie's motto Asli power dil mein hoti hai. And guess what, even Akki agrees wholeheartedly with this tagline. On being asked whether his dil ki power has increased or decreased in all these years, with a smile Akki says, "It's the same."
The Rs 100 crore club
While everyone's talking about gaining entry into this coveted club, Akshay is least bothered about it. And that's because competition with his peers in this category isn't Akki's concerns. "I don't believe in competition. We are not Mahalakshmi race horses to come first, second or third," says Akshay making light of the whole topic.
A small budget venture
And another reason why the actor or the makers might not be bothered about Special 26 crossing the Rs 100 crore-mark could be because it's a small budget venture. "This movie could be made only in a certain budget. I have charged only half my remuneration because I didn't want to put any pressure on the budget of the film."
Coming back to action
Questions about Akshay's fans being disappointed due to the lack of any dhishum-dhishum in the movie again pop up. And now, in typical Akki ishtyle the actor answers: "Toh kya karu? Sabko maarna shuru kar doon kyunki main ek action hero hoon? Bank manager ko maar doon movie mein? (So what should I do? Should I start hitting everyone because I am an action hero? Should I hit the bank manager in the film?)" As we enjoyed Akshay's jest, the actor gets serious, "There is something known as a character, a director – I have to cater to them too, right?"
For the action-hungry fans, Akshay says, "There is Boss, a movie with lots of top class action that I am doing."
Contribution to sports
And while on the topic of action, how does Akki plan to contribute to sports? "I have my own Karate tournaments. Also, there are people training under my initiative who plan to go to the Olympics." What about Indian Premiere League? "Do you want me to do something for the sportsmen or for myself?" Ahem ahem. Guess that's a question very well answered.
With that, Akki signs off.