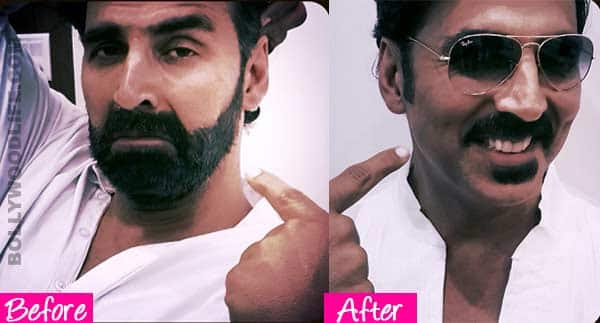 Only a few days ago we were singing praises about Akki's unshaved look and he has already changed it! Sigh!
Akshay Kumar was seen sporting a beard when he stepped out recently. Apparently, the actor was unshaved for his upcoming film Gabbar. But he has finally taken off the facial fuzz. A few days ago before he was about to shave his beard off, Akki tweeted, "Uh Oh!!! Enjoy the last glimpse of 'The Beard' guys & girls,as its coming off as we speak. Who's sad…" He also posted a picture along with it. And then Khiladi Kumar shaved his beard off but kept his moustache and tweeted, "Well? I may miss it, but my kids are gonna be happy 😉 My daughter hated the beard coz it tickled,…"
Well, we're happy that Akki's kids are gonna be happy with his new look. But we're sure they're the only ones happy! Deep sigh. We surely miss his beard. What about you, BollywoodLifers?