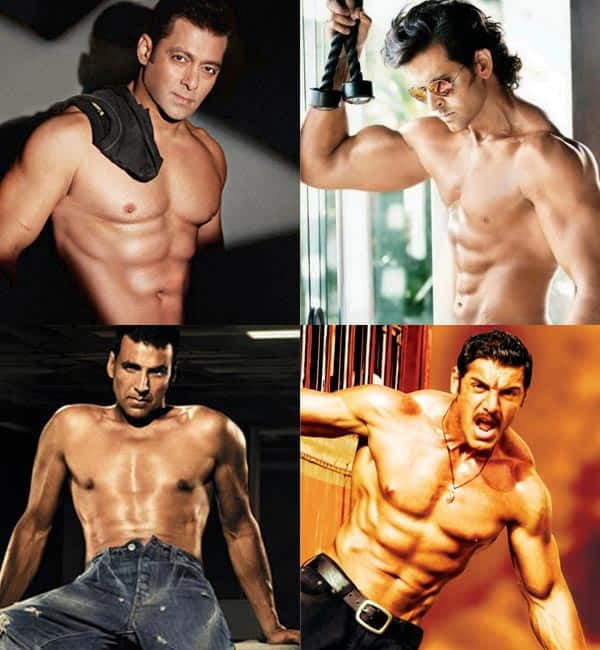 skip advertisement
These hunks have reversed the biological clock by staying ultra-fit. They make men go green with envy and woo ladies with their age-defying charm. Help us select the fittest Bollywood heartthrob who has proved that much like wine, men indeed get better with age!
While turning 40 may mean RIP youth for an average Joe, but our B-town folks simply refuse to age. However much you would like to deny, one can't escape the fact that in your 40s' teeth do start doing a minor rattle, the knees do experience a minor shake and the back starts giving away. But those are the things meant for mere mortals. Our B-town stars know how to keep themselves fighting- fit in their 40s, and even in their 50s! Take a look at these men who mean business when it comes to staying fabulously fit!
Salman Khan: In spite of facing many health issues in the recent past, Salman continues to give us those fan-pleasing shirtless moments in his films (and off screen too) which compel us to hit the gym with a new-found resolve. Think of massive bulk and eye-popping size (after all, it does matter, doesn't it?) of his biceps and you will know why Sallu miyaan continues to be the poster boy of fitness!
John Abraham: Ever since he has slid those sexy yellow trunks off his water-slicked pert derriere in Dostana, Johny boy has proved that very inch of his body (including the butt) is worth ogling. The 40-year-old showed enough skin (read muscles) as the rugged and sexy gangster in Shootout At Wadala. Many even refused to believe that number when john blew out 40 candles on his birthday cake, given the hunk's fitness!
Anil Kapoor: He can easily put a twenty-something kid to shame with his fitness and his child like enthusiasms. At 57, Anil is one of the 'youngest' father we have in B-town. We rub our eyes in disbelief every time daughter Sonam makes public appearance with her evergreen dad aka apna Lakahan. Toned body, glowing skin and impeccable style make Anil look vibrant, young and ekdum jhakass. Has he found the elixir of youth, we wonder! If he continues to defy age like the way he has been, all these years, the day is not far when our fabulous at 50 (close to 60 indeed) star will become India's answer to Cleopatra!
Arjun Rampal: Blessed with a sculpted body and a chiselled-to-perfection face, the RA.One baddie continues to be the ladies' man. Fit as always, Arjun exudes this understated power and Zen like calmness. The rare combination certainly makes him a sex symbol. Thanks to his grueling fitness routine and his regular jogging, Mr Rampal looks fighting-fit and fiercely combative!
Hrithik Roshan: The Greek God showed the world that even our silver screen idols face a set of challenges when it comes to keeping their bodies' fit-n-fine, but they do overcome the hurdles by working hard! Hrithik's recent transformation from a paunch bearing megastar to a proud owner of an amazingly sculpted body left us stunned. Take a bow master!
Akshay Kumar: Considered one of the fittest actors of all time, Akki is not your dole-shole possessing macho stud. He is lean, incredibly fit and enviably agile. His high-flying kicks and swift action moves speak for the man's fitness level.
Sunil Shetty: You can make out from the kind of body Anna sports even today how dedicated Mr Shetty is towards his fitness. At 52, Sunil is extremely particular about what he eats. Working out and playing sports like squash and cricket are his passions. The result is there for all to see!
Shah Rukh Khan: You have got to admit it. The 48-year-old Baadshah of Bollywood is certainly not the fittest star around. Don't get us wrong. We admire SRK ,the charmer, for his wit, his verbal dexterity, his keen intelligence and above all his megastar status. But King Khan is not exactly our idea of fitness!
Aamir Khan: He might have impressed us with his killer bod in Ghajini and later with his sculpted physique in Dhoom : 3 but Aamir doesn't exactly pop into our collective minds when we think about fighting fit stars. But the honey-eyed superstar definitely wins us over with his acting chops as well as with his enthusiasm to try something really hatke.