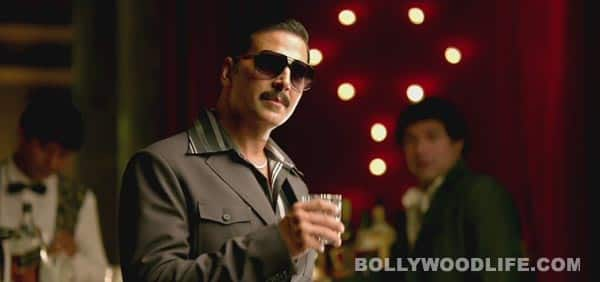 The Khiladi Kumar recently learned that goodness too has its own side-effects
In Milan Luthria's action thriller Once Upon A Time In Mumbaai Dobara, Akshay Kumar gets into a scuffle with his subordinate Imran Khan, who tries to woo his ladylove Sonakshi Sinha. And so he gets his evil streak out to teach Imran a lesson. While doing so, Akki voices some dhaansu dialogues like 'Main toh villain hu, mujhe achcha banne ka koi shauk nahin' and 'Hero marne ke baad swarg jaata hai aur villain jeete jee swarg jaata hai'. We translate those lines from the new action-packed trailer of the film, hoping that you'll appreciate our 'goodness'….
Villain woh jo sharafat ki ummeed khud se bhi nahi karta
Villain he who goodness on hope himself also no do
Main toh villain hu… Mujhe achcha banne ka koi shauk nahin hai
I villain is… me good becoming any interest no is
Hero marne ke baad swarg jaata hai aur villain jeete jee swarg paata hai
Hero dying after heaven goes and villain living heaven attains
Tu apna bacha Aslam, tere maatam pe ek peg extra lagaunga… lekin saale tujhe marunga zaroor main
You yours save Aslam, yours mourning on one peg extra hit… but idiot you hit definitely I
Dafan to sabko hona hai ek din lekin jeete je dab gaya toh jeena mitti hai
Buried everyone will happen one day but surviving suppressed then surviving mud is
Har aate jaate raste pe likh do… yaha par kanoon ka aana jaana mana hai
Every coming going road on write… here law's coming going prohibited is
Agar main hero ban gaya toh meri pehchaan bura maan jayegi
If I hero become then mine identity bad feel 
So who will Sonakshi fall for – Akshay or Imran? The mystery unfolds on August 15.