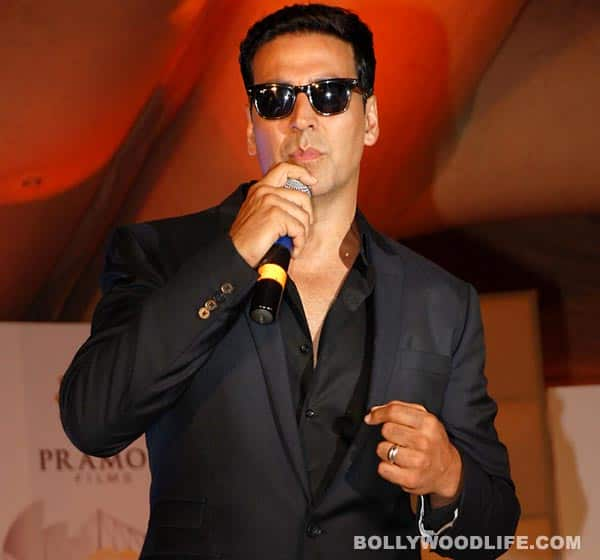 The king of action and comedy speaks exclusively to British journalist Ashanti Omkar about his upcoming film Special 26, and his singing experience
How did your part in Special 26 come about?
My very first reading of the script totally bowled me over. It is based on the real life story of the Mumbai Opera House heist which took place in 1987 in India, where 26 conmen posed as Central Bureau of Investigation officers on a raid and walked away with jewellery worth millions of rupees. It was one of the biggest cons in Indian history.
Can you tell us about your role in Special 26?
My role is of a common man and tells the story of how his life is literally shaken up by a series of events that lead him to become a conman. Special 26 is a film very close to me, as it gave me the opportunity to reinvent myself yet again as an actor.
How authentic is the film?
Directors such as Neeraj Pandey of A Wednesday fame really do their homework before they embark on a film project. It took him almost three years to put the script together for Special 26. He conducted thorough research into the incident in order to ensure that the film was as authentic as possible.
Tell us about your co-stars…
I have had the opportunity to work with some wonderful actors like Manoj Bajpayee and Anupam Kher in Special 26. This gave me the opportunity to learn so much, as they are very esteemed performers. With them, I felt like a complete beginner. My leading lady Kajal Aggarwal, Manoj and Anupamji and I are what I call the 'awesome foursome', and we've been enjoying our promotional tour for this film.
How did your singing Mujh mein tu come about?
I sang the title song for the spiritual album Nirgun Raakh Liya a few years ago, but I know the limits of my singing talent. I was so in love with this song after listening to it for so long in my car that I was familiar with the tune. But it was a task in itself, and when I went into the recording studio for the first time, I was literally cursing myself as to why I agreed to sing this track. One day, Neeraj heard me humming it on the set and asked if I wanted to sing it, so I said why not, let's give it a try. I always like a challenge. After recording the track my director and I heard it and we both liked it. I've dedicated it to my beautiful wife Twinkle. I just felt in my heart that I'd really appreciate a chance to bring in a little bit of me to a song that I like a lot. It's garnered a surprisingly positive response.
Why should people go and watch Special 26?
Special 26 is definitely an entertaining story and I am sure the film will appeal to the masses. It also has a strong moral message. The public need to be particularly alert, so that they never find themselves in a situation where they have been conned or taken for a ride. Also, it has a family rating, so it can be seen by all. It is a special film for me.
Click here for more exclusive Ashanti Omkar interviews for BollywoodLife.com