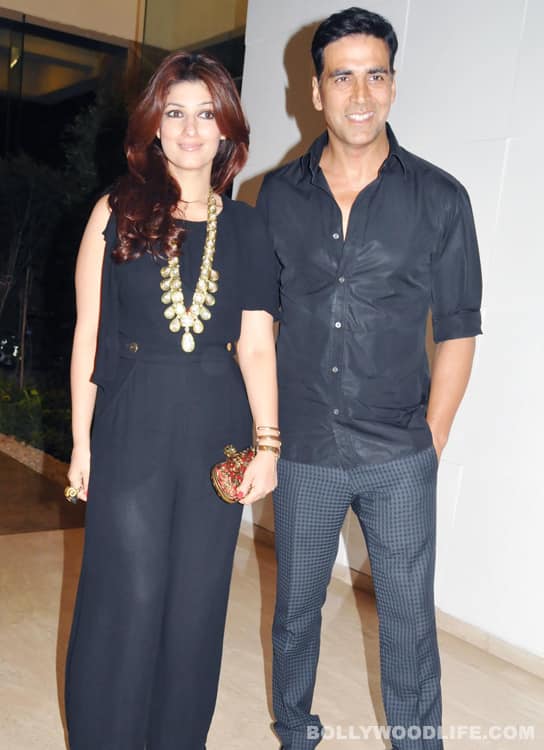 So what if he has been delivering a never-ending string of flops? The Khiladi Kumar has a reason to smile now as wife Twinkle will soon present her hubby with a new 'production', we hear
When our khabroo spotted Twinkle Khanna – the wife of Desi Boyz hunk Akshay Kumar – at a social do recently, he was taken aback for a mo. Big surprise! The always-stylish and slender lady was seen with a tiny mid-bump, which suggested that the actor-turned-interior-designer was expecting a happy arrival at some point in the not-too-distant future. Akki and Tina have a nine-year-old son, Aarav, and it seems that the smoking-hot pair has decided to give him a sibling to defend with his ace karate moves.
After marrying in 2001, the star jodi has been dubbed one of the cutest pairs in B-town. And now Twinkle's baby bump is loudly giving the naysayers a run for their money and declaring that the couple is still very much in love with one another. The soon-to-be addition to the Kumar family must have brought a big smile to Akshay's face, even though wifey-dear is reportedly not totally comfortable in her current state. After all, the macho star has not delivered a hit in the recent past and the happy news of a baby must have given Akki a reason to celebrate. We would like to wish Tina all the best of health for her and the baby-to-be and congratulate the daddy and mommy to be. We also hope that the baby brings lots of joy and a bit of luck to Akshay – may he start shining on the silver screen once again!