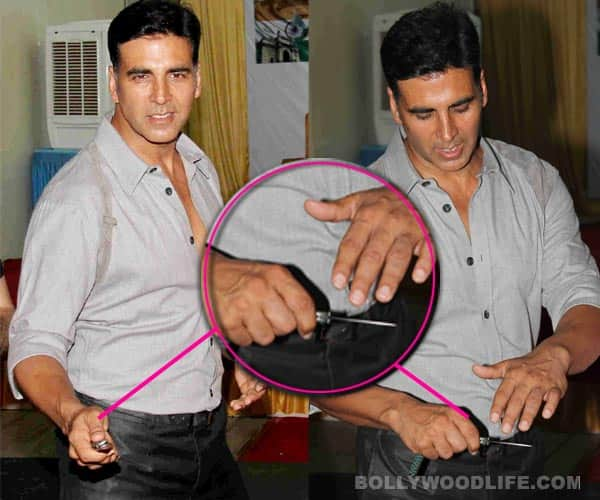 Yogen Shah
The martial arts expert is all set to enhance a new skill set, but this time it's for a special cause
Akshay Kumar has been a martial arts enthusiast from the beginning of his Bollywood career. He has not just promoted various art forms but also encourages people to take it up as a part of their lives. Grapevine has it that he is all set to enhance his skill set by adding one more form of martial arts in his repertoire. He is going to learn Tolpar, a special martial arts form of knife fighting. Not just that, he is also going to train along with female officers of Mumbai police, which will definitely motivate the officers even further.
Our khabroos have informed us that the Mumbai Police has roped in a set of Russian trainers to train their women staff in Tolpar. This knife fighting form is special because it depends more on the quickness and intelligence of the person as against relying on their brute physical strength. Akshay, who has a six degree black belt, is pretty keen to learn this martial arts form, because he believes women are actually better than men at this and thus he wants to encourage them and motivate them to take this up for their own safety and protection. Speaking to a leading daily he says, "What I love the most about it is that while normally, a man has more brute physical power than a woman, knife fighting requires intelligence and thus, with a little bit of quickness, women can actually have an edge over men and can save themselves and others with this skill." If we recall Akki had long back once declared, "It's my goal to make martial arts compulsory for girls in school. In China, you have to do two years of martial arts training, without which you cannot get a graduation degree. There is so much violence and action in martial arts that when you come out in the world, your mind does not think of violence as it takes out all your anger. Therefore, I believe that countries with martial arts will be more peaceful and not as physically violent as others who don't have it."
Wethinks it is a very noble thought but implementing it in India seems to be a far-fetched dream. Till then at least Akshay is doing his bit in promoting and encouraging women to empower themselves in martial arts. Women across Mumbai will definitely feel safer with the female police officers becoming experts in Tolpar. Hai na peeps?