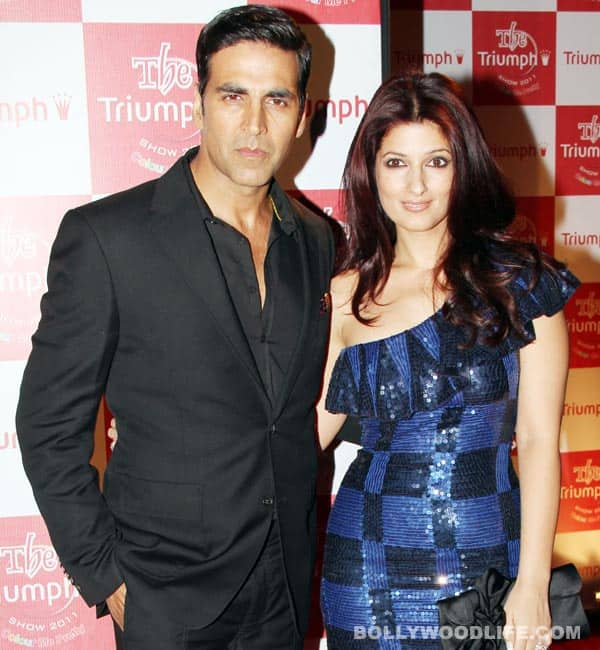 It is lovely to see Bollywood couples in love, but sometimes it gets too saccharine for our stomachs. Akshay Kumar loves his wife, Twinkle Khanna loves her husband. And…?
We all heard how Akshay Kumar sang a song from his latest film (Special 26) for his wife Twinkle (Tina) Khanna. And we stood up and cheered happily, 'coz like almost everyone in the world, we do like a good love story. And then we were told by our buddy the little birdie that when she saw her hubby's acting in the film, Twinkle stood up and clapped – she, like us, was hugely impressed by the performance from the man who has, more often than not, been a ham onscreen. And we had to cheer again. Since we are all great fans of love, of course.
And now we just had to put a little jeer into our cheer when we read this on our favourite social networking site. It came from Akshay Kumar – or his PR team, we don't know the difference, really! He said, "Happy Valentines Day to everyone celebrating, its good to love love..but not just today, celebrate it everyday. My best wishes to all the singles who plan to propose their love today. And one advice to all the youth in fickle relations, if you have someone real, cherish them, because real comes few, far and in between…like my beautiful wife Tina, Happy Valentine's Day!" Sigh.
That just pushed our mush limit a little too far. Yeah yeah, it is all lovey-dovey and sweet and all that good stuff, but it got a bit sickly for us. You love your wife, Akki, and Tina loves you back. We got the message. Now stop, already!