Akshay Kumar wants 75 paisa…
BollywoodLife
Last Updated: 2.34 PM IST 04.09.2012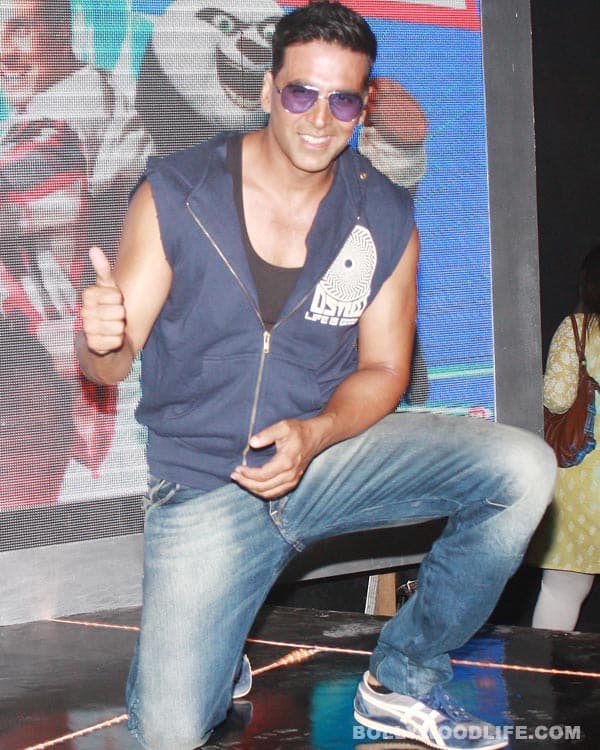 Sign up for the BL newsletter!
The actor is all set with his new release, Housefull 2 this week. Although we aren't impressed with the music of this one, we wonder what happened to those quirky and cheesy songs Akshay Kumar's films had at one time
From begging for 75 paise from his lady love to complaining about the samosa not being stuffed with enough potato, Khiladi Kumar has done it all. We picked up a couple of Akki's songs and decided that his films may have nada content, but his songs are supremely high on entertainment. Here are a couple of his chartbusters that have managed to blow our minds away and, yes, we do hum and translate them every once in a while when we are in a goofy mood…
Zaher hai ke pyaar hain tera chumma - Sabse Bada Khiladi
Poison or love is your kiss
Barah aana de, barah aana - Insaaf
75 paisa give me, 75 paisa
Jab tak rahega samose mein aloo, tera rahunga oo meri Shalu – Mr and Mrs Khiladi
Till the time there's potato in the samosa, I'll be yours oo my Shalu!
Kyon paisa paisa karti hain, kyon paise pe tu marti hain - De Dana Dan
Why you do money money, why you die so much for money
Volume kam kar papa jag jayega – Housefull
Lower volume or else daddy wake up
Na hum Amitabh, na Dilip Kumar, na koi hero ke bacche; hum hain seedhe saadhe Akshay Akshay – Khiladiyon Ka Khiladi
Not I Amitabh, not Dilip Kumar, not any star's son; I am straight and plain Akshay Akshay
First Published: 4.28 PM IST 04.06.2012