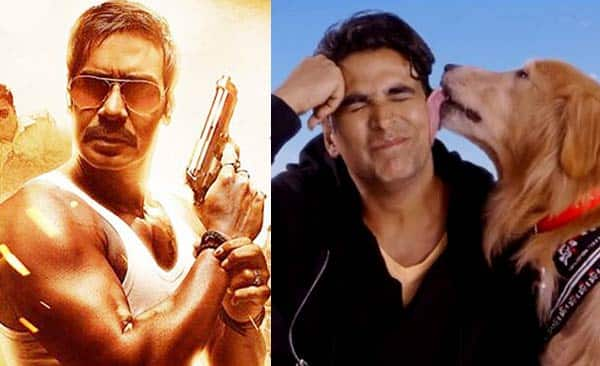 Wondering how? Well, read on to find out more…
Ajay Devgn's Singham Returns opposite Kareena Kapoor and Akshay Kumar's Entertainment opposite Tamannaah Bhatia might not be releasing on the same day, but it looks the latter's film might be affected as far as the business of single screen theatres is concerned. How, you ask? Well, from what we hear, Singham Returns, which hits the theatres on August 15, has booked all the single screens across the country. Which means that Entertainment, which releases tomorrow will have a limited, one week run at the single screens.
"Yes, we have booked all the single screens for Singham Returns from August 15. But the agreement was finalised long back when we booked the theatres for Holiday," confirms Utpal Acharya, whose company is presenting Singham Returns while talking to a leading tabloid.
Apparently, the condition put forward by the distribution company then was that if they wanted to screen Singham Returns they would have to take Holiday. It was like a package deal to ensure a wider release and better business for both the films.
However, Jayantilal Gada, who is distributing Entertainment is not bothered by this development. "I don't think we are in competition with Singham Returns. If the audience likes our film, we will reap the profits," the producer was quoted by the same tabloid.
Well, we couldn't agree more. If masses like a film, it will certainly make profits, no matter what.